Pittsburgh with LPCM
– Part 1 –
For Fall Break 2003, which is essentially a glorified three-day weekend, some of us with Lutheran Presbyterian Campus Ministry (LPCM) went to Pittsburgh to do service work. We stayed at East Liberty Presbyterian Church, a gorgeous neo-gothic 1930s church in a rough section of Pittsburgh. In our service work, we cleaned carpets at Sojourner House, took pictures of the Sojourner House residents for them to put in frames that they decorated, and volunteered at a number of the services provided by East End Cooperative Ministry, including a soup kitchen, a food pantry, and a drop-in center. At the end of two days of service work, we went out on the town, and met my friend Patrick Jarrett, who I met through The Schumin Web. We all went to dinner, then some of us took a tour of the city, while others went out in search of the Luther movie. All in all, we had fun! Let me share with you all that we did, on this "wild road trip with LPCM"…
---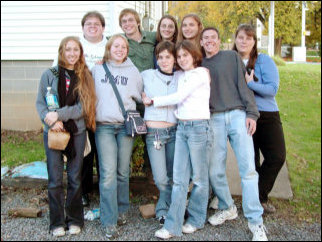 Here we all are, posing at Canterbury before leaving for Pittsburgh. I'm so glad I took my tripod with me. Came in handy a few times.
---
On the way to Pittsburgh, we stopped in Breezewood, Pennsylvania, which is home to a lot of restaurants and motels due to its strategic location between Interstate 70 and the Pennsylvania Turnpike. We stopped at McDonald's…
"So what do you think of the trip so far?"
(my generic get-people-talking line)
---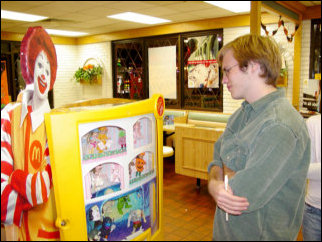 Meanwhile, Spencer ponders the navel of the universe while looking at the Happy Meal toys.
---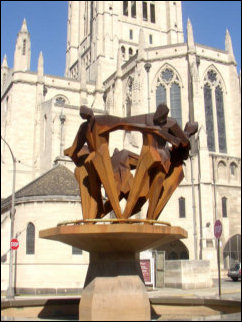 We stayed at East Liberty Presbyterian Church, seen here in the background of this LPCM file photo from March of the "anatomically correct statue", which, as it turned out, was not so anatomically correct after all, when we realized that the figures were facing inwards…
---
Discussing our day, and riding to Whole Foods for breakfast…
---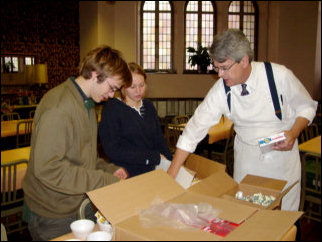 At East End Cooperative Ministry, housed in the church where we were staying, we got some of the fixings ready for the soup kitchen's lunch.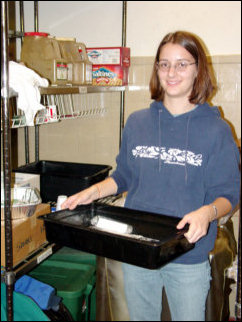 ---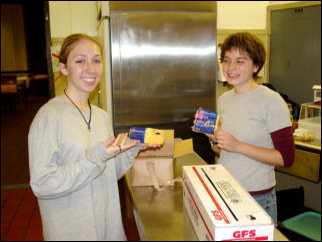 Mary and Maggie strike a "cheesy" pose while helping prepare the food for lunch.
---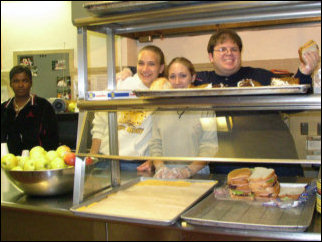 Food service is in action, as Leigh, Mary, and myself strike a pose for the camera. The sequence was tray, plate, soup, sandwich, cheese, dessert, etc. Only complaint: the little plastic gloves didn't fit very well.
---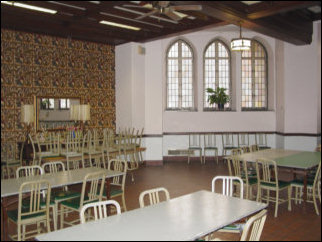 This is the dining room where people ate the food we served. Additionally, the Good Samaritan Worship Service was held here on Sunday morning.
---
After lunch, talking about the name game that we played.
---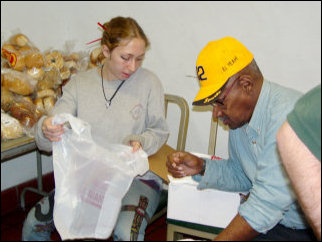 Mary helps double up the bags for the food pantry.
---
At the food pantry, there is a large selection of foods for those in need.
---
Mary marks out the bar codes on the bags of bread, while Maggie and Lindsay bag food.
---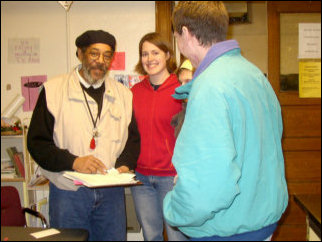 The gentleman at left is Lester, who operates the drop-in center, seen here in this LPCM file photo from March. A new experience for me: I was in a conversation with two gentlemen, and I could not get a word in edgewise! Mark commented that he would have paid to see such a thing.
---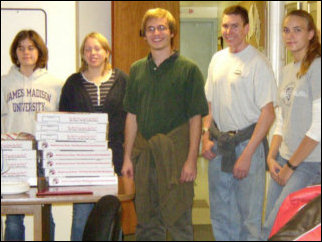 Catherine, Nicole, Spencer, Mark, and Leigh strike a pose with the pizza that the residents of Sojourner House and ourselves devoured like it was going out of style.
---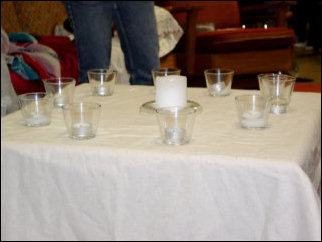 After leaving Sojourner House for the evening, we went back to the church, and finished off our official itinerary with a brief prayer service.
---
After our brief prayer service, some decided to crash right away, and some relaxed. I went outside, and took some photos of the outside of the church and immediate surrounding neighborhood at night with the tripod. I didn't venture beyond the block that the church sat in.
---
Afterwards, I joined the group who went to walk the Labyrinth that was set up downstairs. The Labyrinth is not a maze, per se. No tricks, no traps, no dead ends. There is one path from start to finish, and only one path (unless you cheat and go outside the lines). LPCM members followed the path, stopping periodically to say a prayer. A very spiritual experience.
I personally can't get that kind of concentration going on (recall my relaxation quote), and so I stayed on the sidelines and took photos of the group. These photos are eight-second exposures, and as such show motion as well as stillness. The people showing up as blurs are actually walking the labyrinth, while those showing up in full are deep in prayer. Some were in prayer, and then resumed walking, and as such they appear somewhat in between a blur and a full person.
---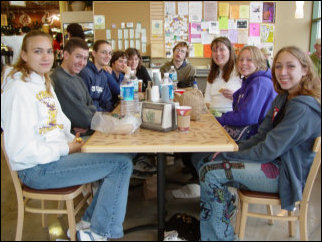 The next day, we again stopped at Whole Foods for breakfast, and had our bagels, fruit, and coffee, and such for the morning. Note how Spencer made an amusing face there in the back.
---
At Sojourner House, armed with Rug Doctor machines, we cleaned carpets. But before you can clean the rugs, you have to move the furniture off of it. Here, I'm having a time moving a dresser across the room.
---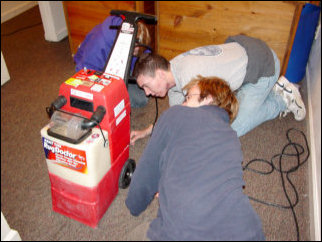 One of the Rug Doctor machines broke down on us! Here, Nicole, Mark, and Spencer take a look at it to try and figure out what was wrong with it. Turned out that it was nothing we could fix on the spot, but thankfully we had a backup, as Kathleen had her own Bissell steam cleaner. We used that.
---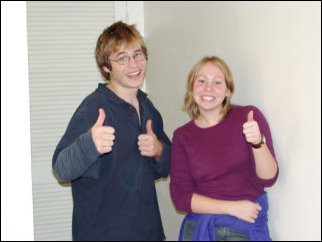 Spencer and Nicole, my partners in crime in this cleaning job, took over Kathleen's machine, the Bissell, and so we were running top-notch once again. It was particularly handy with this machine that we didn't have to mix the "sauce" (the carpet shampoo) ourselves, unlike the Rug Doctors. With the Bissell, the sauce goes in one container, and the hot water goes in another.
---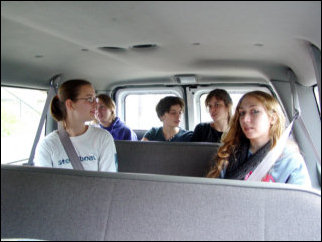 And now, we've hit the halfway mark, and we're taking off to go downtown for lunch. Here we are in the van.
---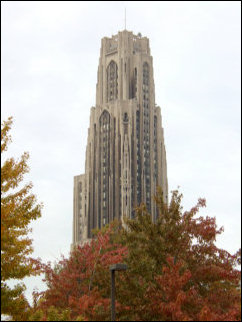 The Cathedral of Learning at the University of Pittsburgh was in full view from where we parked, another gorgeous neo-gothic building.
---
Mark took a picture of us looking down from the second floor of the coffee shop. In the picture, starting at left, and kind of following a line is Mary, Lindsay, myself, Spencer, Nicole, Maggie, and Catherine.
---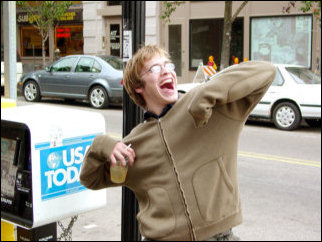 Afterwards, Spencer strikes another interesting pose.
---
Returning to the van after lunch…
(Apologies for the small movie, but Big Mavica was acting up and lost my settings and this was shot before I realized it)