Freshman Year
My freshman year in college was a great year… filled with fun, friends, and memories I will not soon forget.  It was a fun first year.  Come experience it with me!
---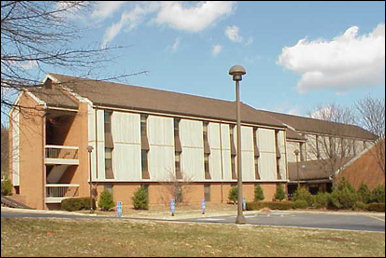 First of all, here's the place where it all happens! McGraw-Long Hall!
---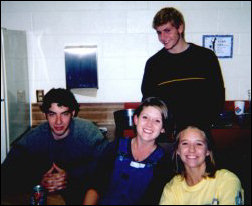 A group hanging out in the MGL kitchen at one in the morning.
---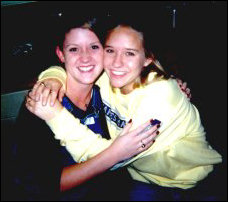 Kim and Naomi are great friends!
---
Tom and Ian's Music Fest!  A great event, but thissign was quite a bother to all of us taller folks due to how low this sign hung.
---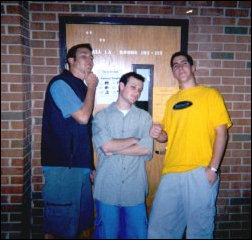 Three guys from 3C stop in the lobby to strike a pose for the camera.
---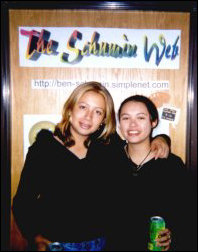 Kristal (right) and her sister Jade pause to pose for the camera in front of the "new" door decor.
---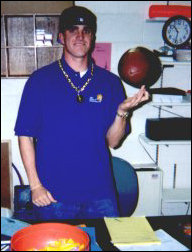 C.J., my RA, takes a moment to spin a football on his finger for the camera.
---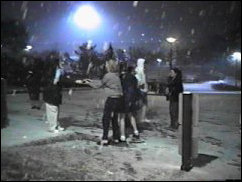 As the first snowfall of the year begins, MGL-ers begin to flock outside for snowballs, despite it being 1:00 AM.
---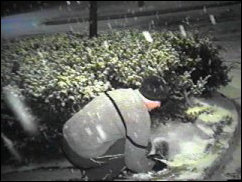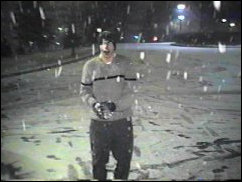 Chris picks up a snowball, and then… uh-oh… I believe I'm in for a snowball or two.
---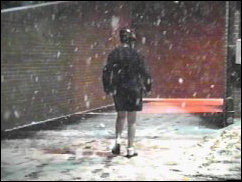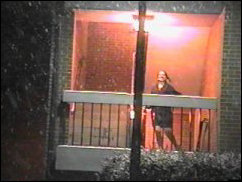 A frozen resident heads up the outside stairs to return to the heat of her warm room within McGraw-Long's concrete walls…
---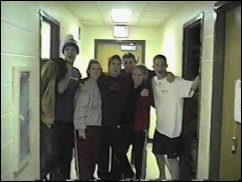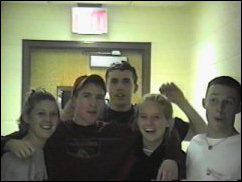 After the snowball fight on Hillside field was all said and done, everyone stands victorious for the camera.
---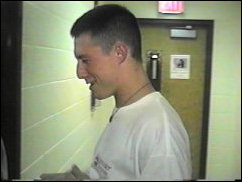 Gee can't understand why I have the light attached to the camera!
---
Skatetown in Harrisonburg had a "Wacky Tacky Skate for Kids" on March 17 as a fundraiser, and we had two teams from MGL out raising money.  The "Wacky Tacky" part came from how they were dressed.  Look and see!
The first team was (left to right) Naomi, Kim, and Krisha…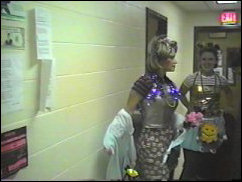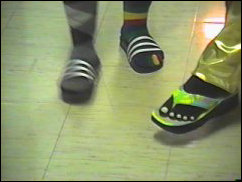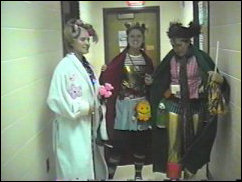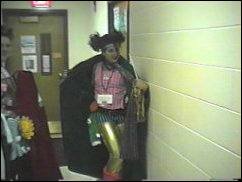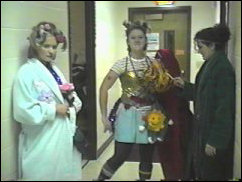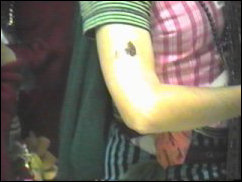 The second team was Chris and Cristen…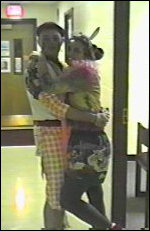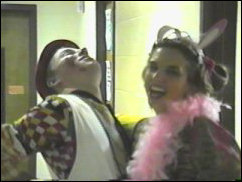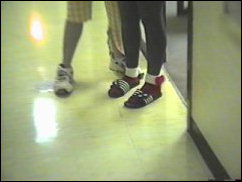 ---
And what about the things that happened that we didn't photograph?   What about…
"On the pot" AOL Instant Messenger messages?
Rotten limes after Thanksgiving?
The new coffee maker?
Fire alarms at 1:00 AM?
The ice cubes and tub of water in the RA office?
The launch of the MGL Web site?
"Moving into the study lounge"?
Building a loft bed at 1:00 AM?
The collapse of my leather office chair?
Floods in the laundry room?
The big-screen TV Superbowl party?
Driving the residents of Hillside Hall back into their own building with snowballs?
Whoopi Goldberg and Sailor Moon lining the halls of 1A?
The ice cube-induced urinal flood?  (It was all clean water)
Disconnecting my hard drive while installing my CD burner?
Discovering that Joey's computer was not equipped for an internal CD burner?
Ashla's birthday party?
Slipping and sliding to class after a big weekend snow?
The collapse of my old computer chair?
Showing off my new computer chair?
Riding the new chair down the hall?
Laundry room dancing?
Fashion show parading?
Water gun wars?
Sleeping in the computer chair?
Watching Who Wants To Be A Millionaire?
The MGL kitchen's Copenhagen chorus?
Photographic evidence that I really do sleep in my computer chair after I get up?
Roommate surveys?
Singled Out?
Percussive maintenance on the washing machines?
"Come to Hall Council… or Schumin gets it!"?
Kevin's birthday?
ICQ from one end of MGL to the other?
Four of us finally overcoming Andy to get the door open?
Winning $510 on Who Wants To Be A JMU Millionaire?
Ear to the computer?
Registration?
Room reservations?
"Man talk" in the kitchen?
Late nights at Wampler Hall?
Silly putty?
23-hour quiet hours?
"Who Wants To Earn An A?"
Bill Clinton songs?
The computers that will not quit giving us problems?
Napster?
CD burning?
Scanning stuff?
The Ramen Noodles that no one wanted?
Posing for the camera with my office chair?
The mess of moving out?