Who Would Ever Hurt A Whammy?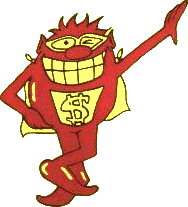 Nothing brings a residence hall together sometimes like a good theme. Everyone had a theme in Potomac, but there was no coordination between them. As a result, as a staff, we had a "Mission Impossible" theme, the fifth floor on the upperclass side had their "I've got five on it", the third floor on upperclass had "Third floor's the charm". Down on two, where I determined the theme, the Whammy got its day in the sun. Yes, the Whammy, from the classic 1980s game show Press Your Luck. I used egg-crate fonts on the door signs, did my two "rotating" bulletin boards up like a game board, and put a Whammy on my other bulletin boards as well.
Following the opening of Potomac Hall, some of the residents took down their Whammies and put up their own theme. Others, however, decorated their Whammies! One question the Whammy used to ask after someone landed on him was, "Who would ever hurt a Whammy?" before getting nailed over the head with a hammer. Seems that the residents would never hurt a Whammy, but they were willing to embellish… So let's take a look at this Whammy-themed floor…
---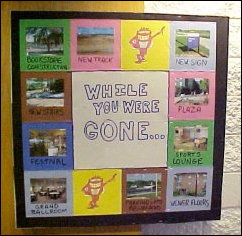 While everyone was gone, JMU changed the campus considerably. Oh, and those pesky Whammies…
---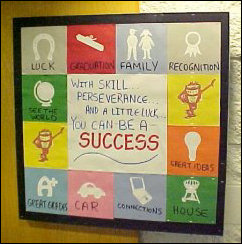 My other bulletin board had a "success" theme. These look SO much like Press Your Luck's actual prize icons, don't they?
---
My other two boards had him, but, being functional in nature, use him primarily as an accent.
---
Some residents decided that the Whammy needed a little bolder lines, shown here as this resident outlined his Whammy…
(And yes, I blurred out the last names for purposes of privacy)
---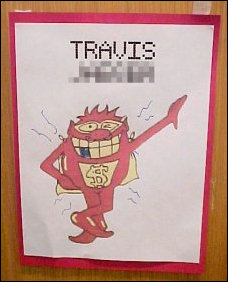 Missing teeth… stink lines… and a mustache!
---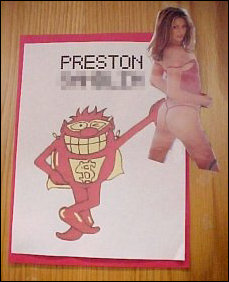 Whammy and… Tammy, perhaps?
---
One roommate pair made their Whammies match to an extent, each one coloring in a different part of their Whammy's outfit…
---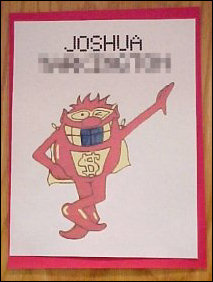 Oops… a big missing-teeth space there…
---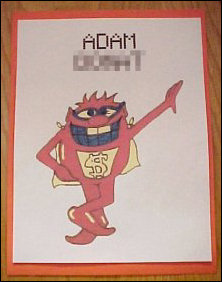 And finally, my personal favorite – Bambi-eyes and buck-teeth. Gotta love it…