Snowed In!
There's something about being snowed in… and that's exactly what happened from February 14 through February 18. Having freshly emerged from a snowfall the previous week, we really got nailed the second week, with a mixture of freezing rain, sleet, and snow. It was enough, in fact, to close JMU for that Monday and Tuesday, while they tried to dig us out. Still, there's something about realizing you're stuck. On one hand, you're cut off from the outside world. But then on the other hand, it's an opportunity to bond… especially once the door alarm died, after going off incessantly due to snow getting stuck in the door. It's interesting… while you're snowed in, you want to get out. But once the snow melts and you hear reality calling, you want nothing more than to pile some snow on the ground and go back in.
---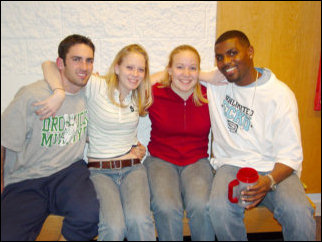 The best thing to have happen is to be snowed in with friends, like this group here…
---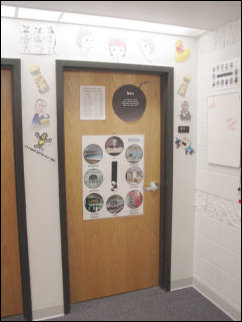 I took the time to decorate around my door, left over from my January "Netculture" bulletin board.
---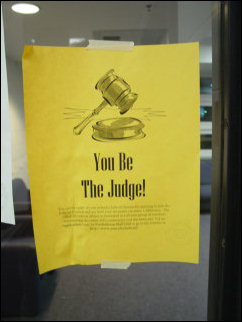 A number of us pondered this advertisement, which, after watching enough TV over the weekend, started to take on a Judge Judy-style "Here comes the judge!" ring.
---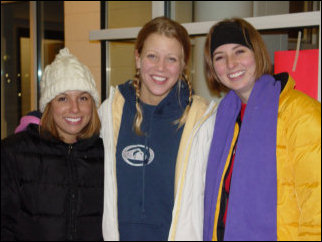 Some, like Jamie, Kerri, and Molly, went outside and played around in the snow.
---
Perhaps the most shocking sight of the weekend was that we had literally cleaned out the vending machines! All that's left here is a few bottles of Diet Coke, and a few of Vanilla Coke.
---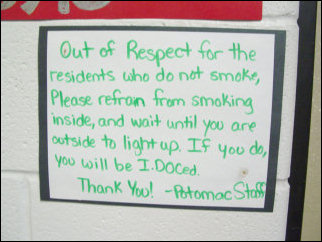 Of course, the freshmen think that just because it's cold, that they can smoke inside. Not so, freshman side! We forced them outside to smoke.
---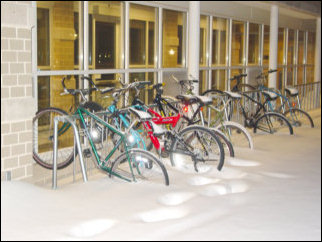 Oh, and did I mention SNOW? We got mad snow this weekend!