Senior Year
A third year in Potomac Hall, and three times the fun! I'm still an RA, but this time on the upperclass side. I'm now a Public Administration major, but still having a blast…
---
First of all, the good life… photographs galore!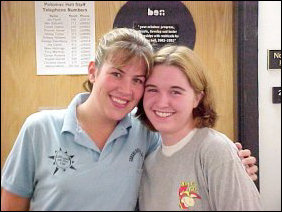 Marissa and Bridget!
---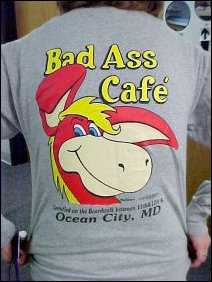 Don't you just love beach t-shirts? They just have a certain humor to them…
---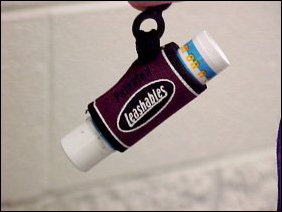 Whoever thought of this idea is a genius… a much better way to strap that stick of chapstick to your keychain than the conventional method…
---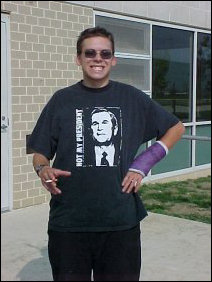 One of the freshman side's most unique personalities – Sean.
---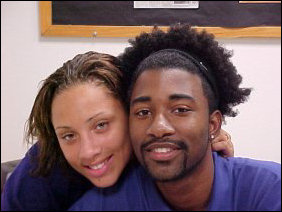 Brittany and Donell take a moment to pose for the camera while trading places on duty.
---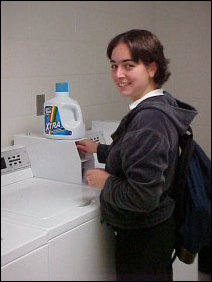 Christina knocks off a load of laundry before settling in for a Halloween study session.
---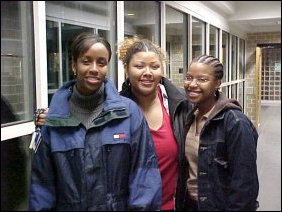 Some of the girls from 5A stop for a photo…
---
The fourth floor girls have a thing for posters… seems that they make them on the fly, too. here are two interesting ones… click the images and read on…
---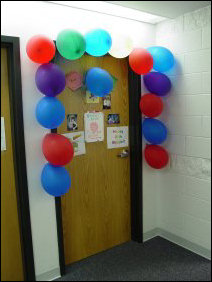 In celebration of a birthday, a door is decorated with balloons!
---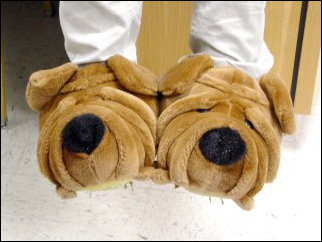 Thomas's slippers are named Apollo (left), and Zeus!
---
"It's my favorite time of the year: fire drill time!"
---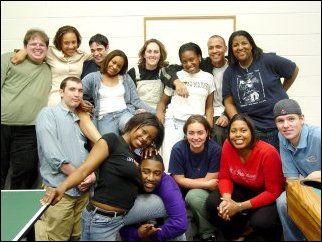 And this would be the Potomac 2002-2003 Hall Staff. In this picture, you will find (top row) me, Brittany, Tony, Kerstyn, Jen, Krystal, Aaron, Mecca, (bottom row) Thomas, Dorian, Donell, Christina, Ashley, and Joe.
---
And of course we cannot forget those magical non-photographed moments. How could we forget…
"It's not moving if you buy it locally… it's shopping!"
"I had my strike dance all ready…"
"It's hard to be a hor-net!"
"Triple scoop of vanilla ice cream?"
"Everybody say… YATTA!"
"I may be well-known on campus, but that doesn't help me get laid!"
"You all and your swimming pool… you're legends around here now!"
"WHAT YOU WANT, —–?"
"Benjamin, will you buy me that tiara?"
"Blasted people won't leave stuff alone!"
"Where's your poker chip?"
"Schumin, I have a bone to pick with you. What's with these thongs I keep hearing about with your picture on them?"
"ASP would be preferable!"
"And just who are you calling a weirdo?"
"TOO MUCH INFORMATION!"
The first night of movies with Big Mavica?
"I call it James Madison's Best Side."
"It was a joke!"
Late nights playing Super Mario Kart?
The thong counter?
"Can I put more trash on my board?"
"What are you doing up for breakfast on a Sunday morning?"
"We're snowed in! AAAAAAH!"
"Benjamin, you're so silly…"
"I'd be happy to take your money!"
"They'll bring you a brand new smile today!"
Prank call to Cassie at 11:59 PM with a fake accent: "I'm calling on behalf of First Interstate Bank to offer you the First Interstate Visa…"
"I hate this elevator!"
"We don't ever have to take flyers down in the elevator… the residents clear it for us!"
"This is what needs to happen at JMU!"
Mecca: "What's a good Mecca phrase?"
Me: "Why am I calling you?"
"Rescue assistance! Rescue assistance! Rescue assistance!" (The "rescue assistance" buttons, not to be confused with the fire alarm)