Potomac Hall Door Decor
As with any college dorm, Potomac Hall has a lot of people decorating their door. Door decor is fun, too! Some people go all out, others do just a little, and others don't have anything at all! Here, I focus my Mavica's eye on the more festive of Potomac's doors from 2000-2001. Please take note that the smaller images on this page were retouched to maintain the anonymity of the residents behind them, with photos of people on the doors being blurred out, and names removed, etc.. However, when the full-size pictures were added in February 2002, these residents had long since moved out, and thus the full pictures did not get retouched.
---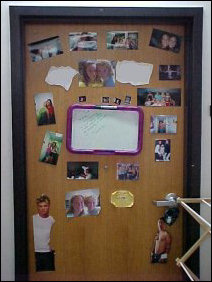 This door is alive with real photos and cutouts!
---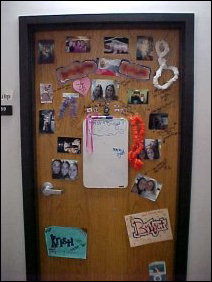 What can I say? Leis, photos, creative name-labels… plus notes scrawled upon the door. All in all, nice!
---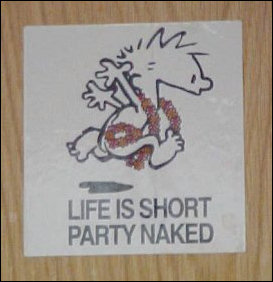 What would Bill Watterson say if he saw this? Still, life is short, but I don't know about partying naked…
---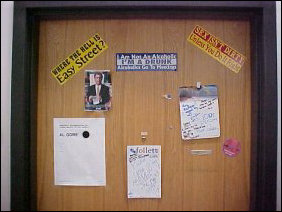 One of the few men's doors photographed, this door is typical of the men's doors which are decorated. So where is Easy Street? Answer is it's in Rogers, Arkansas, where there truly is a street called Easy Street (it's off of Dixieland Road).
---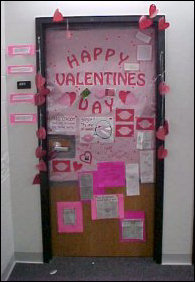 Another pair of women decorated this door on the freshman side. This was probably one of the most extravagant doors I'd seen, with colors and notes everywhere. In fact, you can get free condoms here, as well as pick-up lines!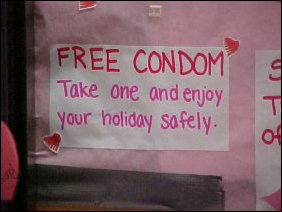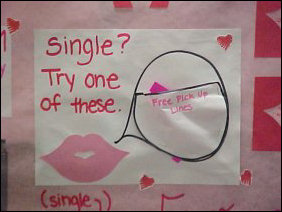 ---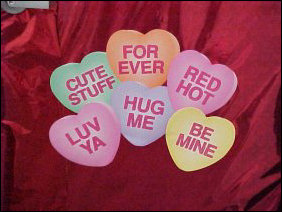 Valentine hearts make for a lovely scene on the lower half of these people's door…
---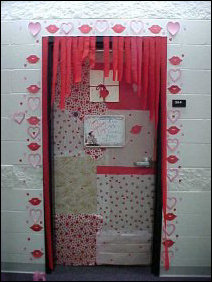 Another extravagantly decorated door… this one goes for color and fringe.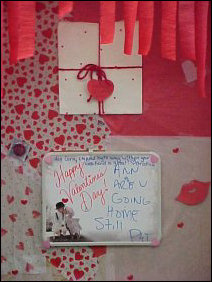 ---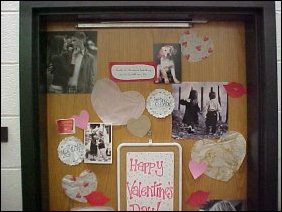 This door is covered with pictures with major "cute" value, as well as paper hearts to perfectly complement the pictures.
---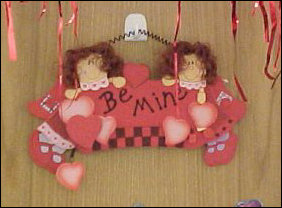 "Be mine!" This decoration clearly violates my own personal decoration policy, but it's neat, and still there, despite this being a weekend.
Note: My personal door decorating policy is not to put anything out on the door that you can't have back up in five minutes if it gets destroyed.
---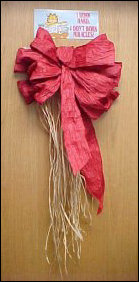 Not to be outdone, the housekeepers on the east side also decorated!
---
And now to the upperclass wing!
---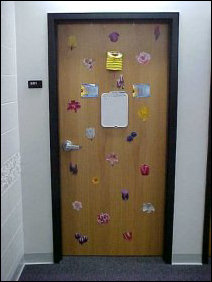 This door, covered with flowers, adds a nice touch to any hallway.
---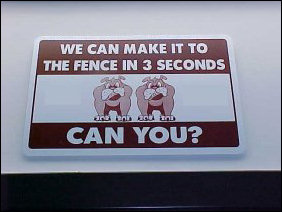 If you want to run like the big dogs, you have to make it to the fence in three seconds. Can you?
---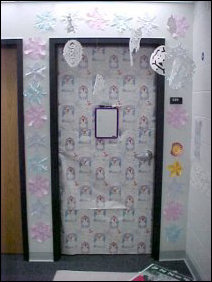 With snow as a theme, this door, plus extra snow hanging from the ceiling, this is one door that doesn't want to be outdone.
---

Down on my floor, I encountered this door, covered with quotes and thoughts.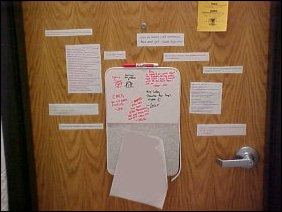 ---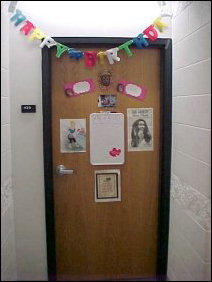 This door contains signs and a festive "Happy Birthday" banner across it. You can see a close-up of the sign on the left part of the door below.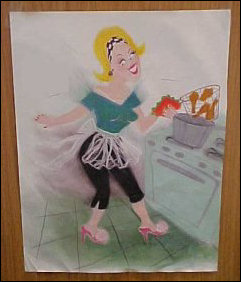 ---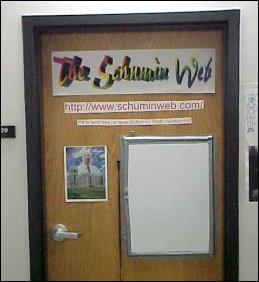 This door… well… is mine.
---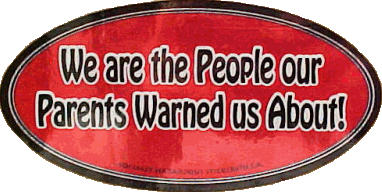 You may want to watch out when seeing these folks…
---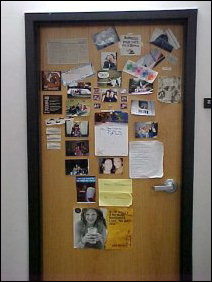 This door is covered with festive pictures, articles, and cutouts!
---
Judging from our tour of Potomac Hall, we can draw a few conclusions. It seems that men are not as prone to door decor as the women are. Very few men's doors ended up getting photographed as a result. Secondly, freshman women decorate their doors much more loudly than upperclass women. Thirdly, this was the weekend after Valentine's Day, and thus the abundance of pink hearts.