Pulling the Fire Alarm
It's not every day that you get a legitimate opportunity to pull a fire alarm. However, on November 8, I finally got that opportunity to put my hands inside a pull-station, and pull the handle. I tell you, I had so much fun, and was just tickled pink about the whole thing. The photos of me pulling the station were taken by Mecca Marsh, my Hall Director, and Renita Johnson, another RA in Potomac, shot video of the whole thing (which I've perhaps watched TOO many times already). After the handle was down, and the strobes were flashing, Mecca and I switched, and I took the Mavica. Still, take a look, and then click the link to the video at the bottom of the page. It's "strobe-tastic"!
Also, a point of interest… the cell-phone I have clipped to the side of my pants is not normal for me. Due to an unrelated event, I needed to have my cell phone with me, and so it stayed on me during the fire drill.
---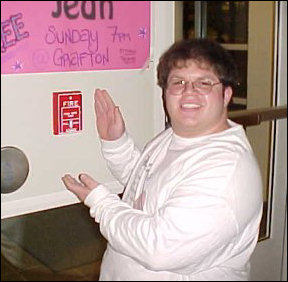 The pull-station and I pose for a glamour shot before I pull it.
---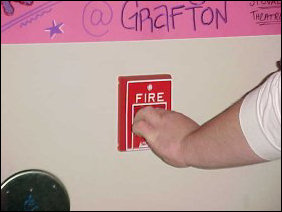 I've pushed in, now…
---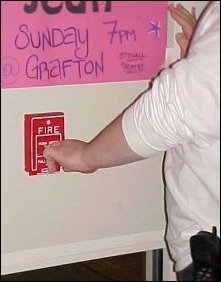 PULL DOWN!
---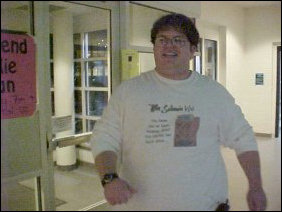 I am all smiles as the Code-3 temporal pattern begins sounding, and the strobes are flashing. Note that I dressed the part for the fire drill, appropriately wearing the fire alarm shirt from my Online Store.
---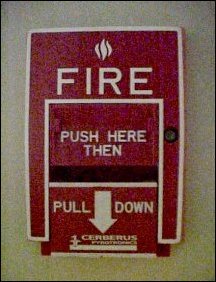 Success, indeed! Let's see some residents, now!
---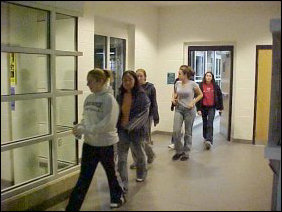 Well, here's some residents now. The biggest complaint from everyone while we were having this fire drill was the fact that we did it during Friends.
---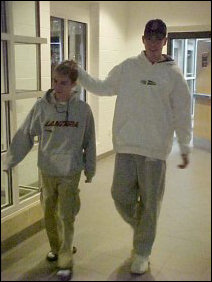 Here's Patrick and Jackson from my floor, making sure they know how to save their necks if Potomac Hall ever caught fire.
---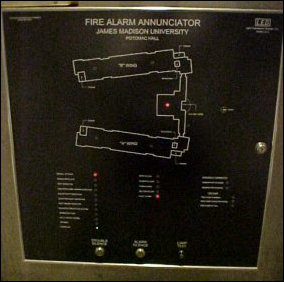 The alarm annunciator shows exactly what it's supposed to. The alarm is originating from the center section of the building, on the first floor, from a manual pull-station.
---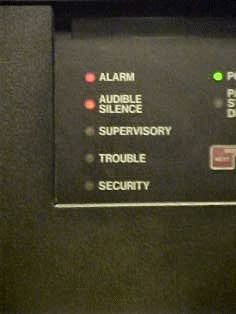 Meanwhile, above the annunciator up on the alarm panel (FACP), it's showing the same alarm condition existing, and since the alarm was at this point unacknowledged by us, both the "alarm" and "audible silence" lights were flashing. When the system receives an acknowledgement to the alarm, the "alarm" light stops flashing and stays solid, and when the audible silence button is pressed, that kills the sound, and the "audible silence" light stops flashing and stays on.
---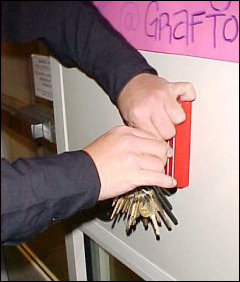 With everyone evacuated, the JMU Police officer on scene to observe the drill reset the station…
---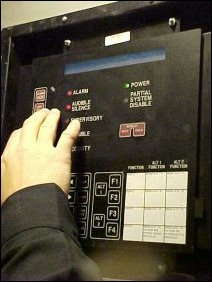 …and acknowledged and silenced the alarm.
---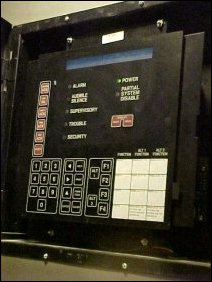 Now, with the alarm reset, it's time to close the panel and let the masses back in.
---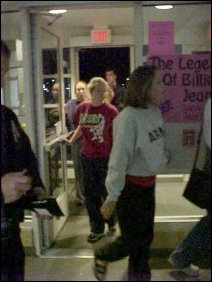 And with the fire drill over, it's time for everyone to watch the second half of Friends.
---
See the video of the fire drill!