Inside My Room – Freshman Year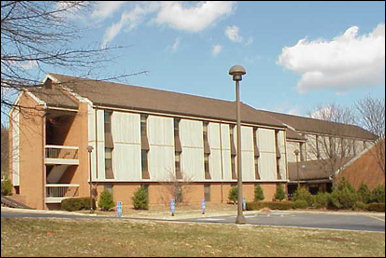 Inside of McGraw-Long Hall, on the first floor, second window from the left end, was my room.  I had two different roommates in there, in different semesters.  I had Jon Forde the first semester, and Brandon Durflinger the second semester.  It was a great place to live, and I miss it dearly.  Life in McGraw-Long was the subject of several quotes on the main page during my year there.  But let's go in, and see what once was…
---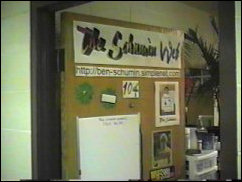 Come on in!  This is how my door looked (for the most part – the pictures changed from time to time) during my freshman year.
---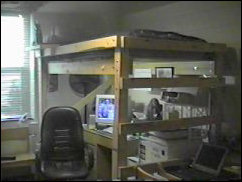 This was my corner – my "office", so to speak.  I had a loft bed, and the computer resided underneath said loft bed.  I had a black chair for most of the year, and then after that chair's base finally gave in, I ended up getting a new, sturdier office chair.  Standard residence hall chairs?  Uh-uh.  Hurt my back.  I bring my chair from home.  You can take a closer look at my actual bed in the picture below.  And no, I did not hit my head all too often, despite the low ceiling.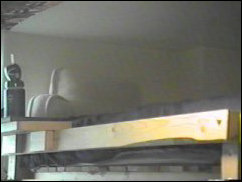 ---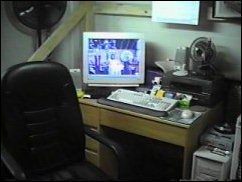 This is an up-close of my "office".  Note that this was not an optimal set-up, because the monitor was not straight ahead, as I would have liked.
---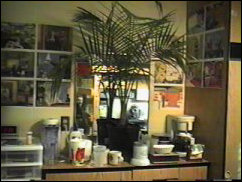 What you see here is my failed attempt to have something green in the room that wasn't mold… I bought this plant at the Harrisonburg Lowe's, and to everyone's dismay, it died.  Believe it or not, it started growing mold…
---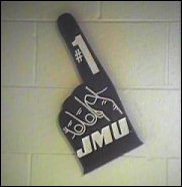 JMU is number one, and it's about time you knew it!
---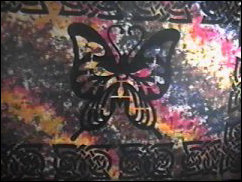 This thing was on the ceiling.  I bought it for the colors, and it's quite nice, but I just never could find the wall-space for it.
---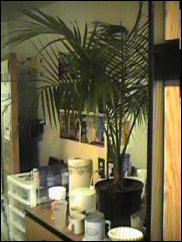 And here's the plant again, as we look towards the door.
---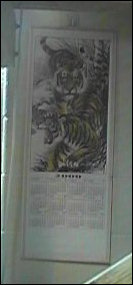 We got this in Chinatown in Philadelphia over Thanksgiving.  Note the tiger at the bottom of the picture, roaring.  Either it's hungry, or it's actually someone's mother… I can see it now…
"JUNIOR!  WHAT DID I SAY ABOUT PLAYING WITH THOSE OLDER TIGERS?"
---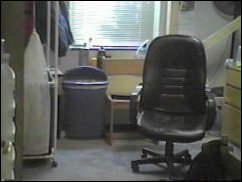 Another view of the room, this time from the center.
---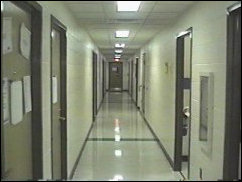 McGraw-Long had nine hallways like this.  Ours was unique, though, in that we had a study lounge, the laundry room, and the kitchen.  My room is on the left side, at the end of the hallway.
---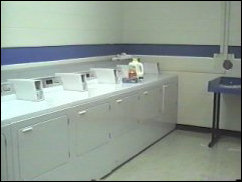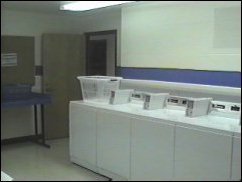 The laundry room… brings back memories, all right.  Dancing, singing, and of course, waiting for the laundry to finish.  Six washers, and six dryers.