Singled Out
On November 12, 2001, Potomac Hall's Community Council put on a production of the relationship game show Singled Out. They reserved the Festival, and got four people gift certificates, and "strongly encouraged" the winning pairs to redeem their gift certificates together. It was comical how far the Community Council was required to go to emphasize that they were not setting people up on dates (Residence Life insisted on it!). Christine Yip was the female who would be given a gift certificate along with one lucky male, and Brody was the male who would get a gift certificate along with one lucky female. So let's head on over to the Festival and see what's going on!
Unfortunately, the lighting at the Festival is somewhat poor for photography. I've raised the light levels on all of these photographs, and also the contrast as needed.
---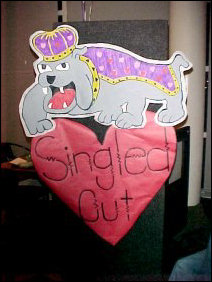 The Duke Dog is love-struck… come on over to Singled Out!
---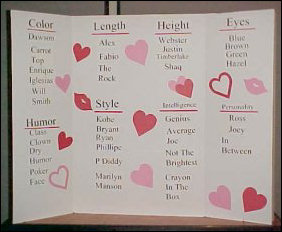 Every characteristic that Christine might want to eliminate is here for her choosing, presented in the form of celebrities that have these characteristics.
---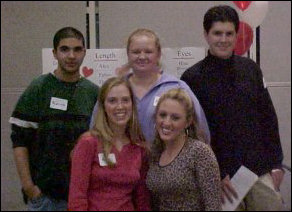 Let's take a moment to give these five people a round of applause for pulling this off. This is Potomac Hall's Community Council. You go!
---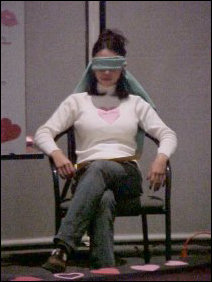 Christine sits blindfolded as the contestants are led onto the Festival stage. In Singled Out, the "date" is not supposed to see the contestants who have not been eliminated, so any time a contestant and the "date" were to be in potential eye contact, Christine got blindfolded.
---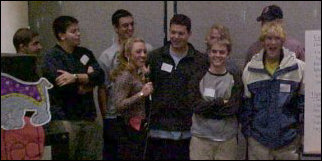 Here, Sarah, our SGA Senator for the freshman side, helps a number of my residents by providing the microphone for their responses.
---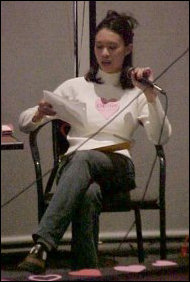 Christine to Jackson…
"What name would you call your date?"
"Schumin… because he likes to tie up his women!"
(Don't ask, but it's not what you think nor what it sounds like)
---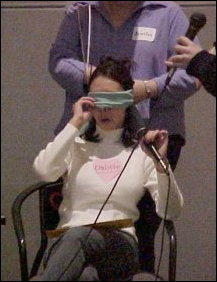 Now Christine has asked a contestant to give her a shoulder massage, and so now she must be blindfolded again…
---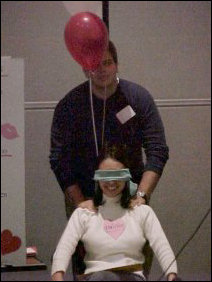 And then Adam comes over to do the massage. Feel good?
---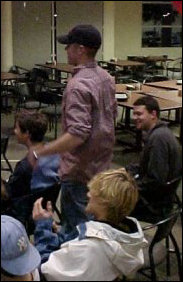 Now, in round three, the first person to reach the center wins, by answering questions of "X or Y", etc.
---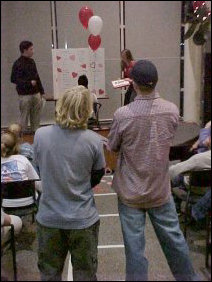 Currently, Chris and Jackson are neck-and-neck.
---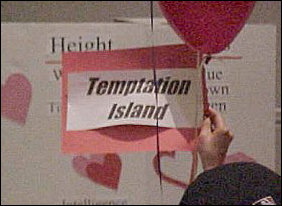 Survivor, or Temptation Island? Christine chose Temptation Island…
---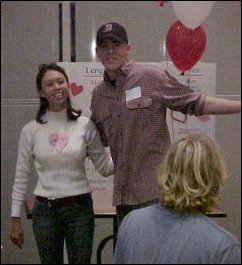 Which made Jackson the winner!
---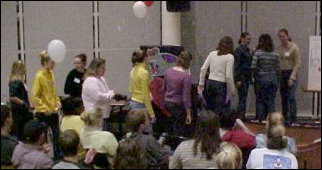 And now it's time to switch as the women try to win a gift certificate.
---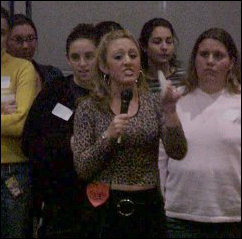 And Sarah now begins introducing our contestants.
---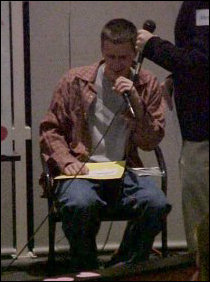 "I'd like to eliminate all the contestants with brown hair."
---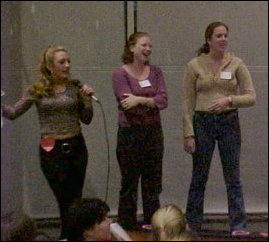 All that left on stage was two contestants! After this debacle, Brody exercised his option to pull one contestant back into the pool after they had been eliminated.
---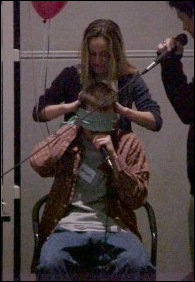 Continuing on, Brody gets a head-massage by Stephanie, the contestant called back in, as part of round two.
---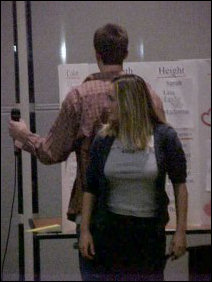 And now, after round three, with the winner chosen, but Brody still not knowing who it is, the two stand back-to-back.
---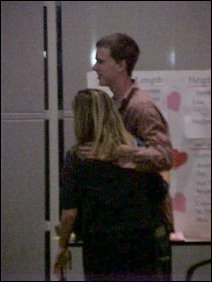 And now, turn around, and meet Stephanie, your "date"! Fun stuff!