ΣΣΣ vs. ΣΚ
I was invited by a member of the Tri-Sigma (ΣΣΣ) sorority to come over to their football game against Sigma Kappa (ΣΚ) that was going on behind Potomac and Chesapeake Halls.  I came, and stayed until I ram out of light for pictures (which coincided with meeting some of the people on my hall to lend my support for a softball game).  The Tri-Sigma game was a lot of fun to watch, and I also interacted with a number of the Tri-Sigma sisters.  A fun bunch, indeed.  The football game came about as part of the Kappa Alpha Rose Bowl, which helps raise money for Muscular Dystrophy.  Tri-Sigma ended up winning this game, and it was a whole load of fun.  Take a look…
---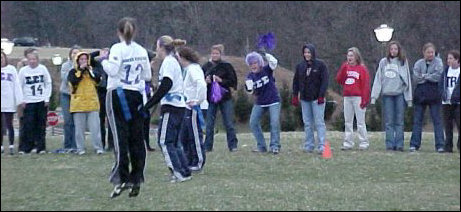 The fans are out in force!
---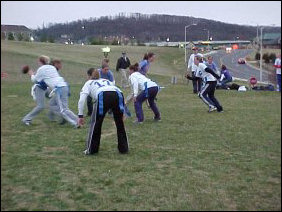 Let's play!
---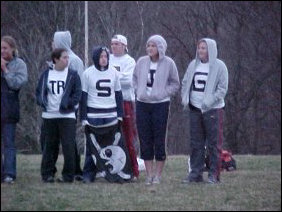 This group is out supporting their team in style, reading across the four of them TRI SIG.
---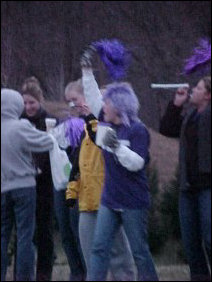 As you can see, pom-poms and noisemakers are the order of the day.
---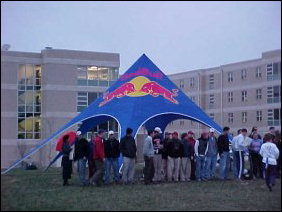 This event was sponsored by the makers of Red Bull, a canned sports drink.
---
From this point on, all the photos have been heavily retouched in order to compensate for the continual loss of light due to the sunset.
---
The Tri-Sigma sisters definitely had a field day with their shirts!  Besides the ΣΣΣ letters, they put numbers and various words on the back of their shirts.  In the picture at left, above the large 88 is the word "GONADS".  At right, above the 04, "FONTANA" is written in block letters.
---
This Tri-Sigma sister was especially noticeable because of her purple wig.
---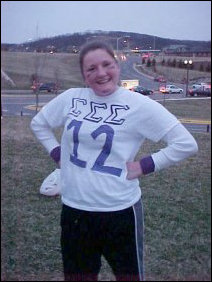 She's the one who invited me to come!  Glad I accepted, too… this was fun!
---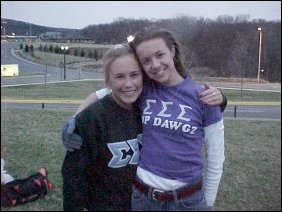 ΣΣΣ… top dawgz!
---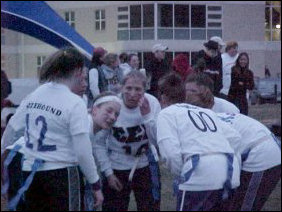 As with any football game, a huddle is necessary in order to communicate strategies to kick Sigma Kappa's butt.
---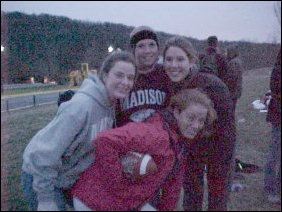 These Tri-Sigma sisters have an extra football, and are holding it in support of the team.
---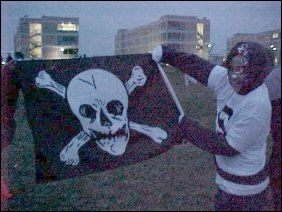 "Arr, mateys!  We win this game or ye'll be walkin' the plank!"
In all seriousness, the Jolly Roger is one of the symbols of Tri-Sigma, and as such, it makes its appearance as a show of support.