Swimming at Potomac
The thing I miss about my own freshman year is the way that you use resources and spend little to no money in doing it. This year, I get to live out the freshman experience once again through my residents. On this particular occasion, Kaveh, Scott, and others bought an inflatable swimming pool at Wal-Mart for $10, put it out behind the freshman side, just beyond the smoking area, and filled it up with water from the showers. After the pool got filled up, Kaveh, Scott, and Chris climbed on in! And they had fun, too! You may wonder how long the pool lasted before it got taken down. The answer was, it lasted one day. We had one evening with the pool, and then the groundskeepers the next day took the pool. Sad to see it go, but fun while it lasted.
This is the first College Life feature to be designed from the start with full-size images in mind. Click the images to see full-size versions!
---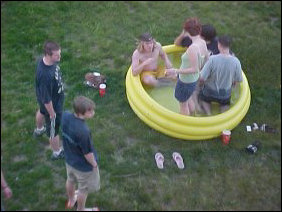 Coming down the stairs, look what we have here!
---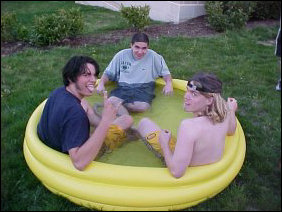 Rub-a-dub-dub, three men in a… swimming pool.
---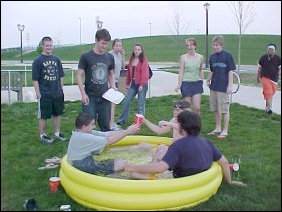 It was really a relax-a-thon here, as they have their food and drink from Festival nearby.
---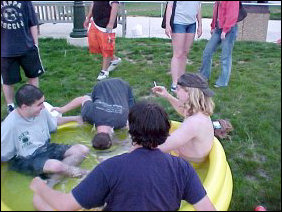 Dunk!
---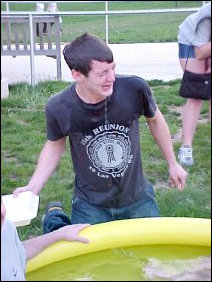 Well, you're wet now… I hope you're satisfied.
---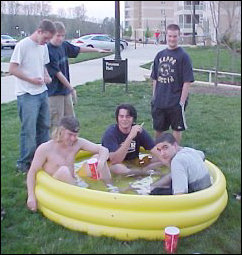 Right here, in view of the Potomac Hall sign… eating dinner, drinking sodas, and smoking cigarettes.
---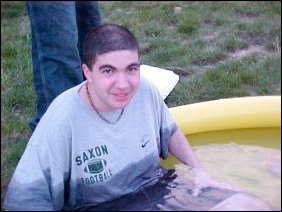 Since the pool was only recently filled up, everyone's still dry from the chest up, as Kaveh demonstrates to us.
---
Meanwhile, Mike tries his hardest to put Beth in the water, as Beth tries her hardest not to. Beth won.
---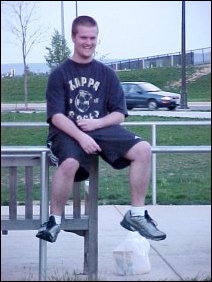 Chris, Scott's roommate, waits and watches, for he knows what he has in mind next…
---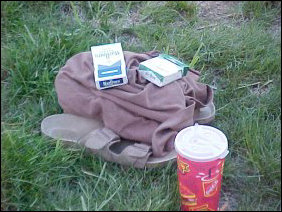 Beside the pool, the life-support mechanisms of its inhabitants sit nearby – shirt, shoes, drinks, and cigarettes. Interestingly enough, of all the floors in Potomac, mine has the highest concentration of smokers, with 19 out of 46 residents lighting up on a regular basis.
---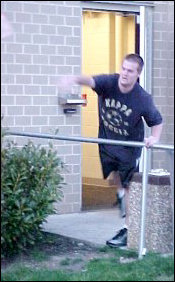 Chris is back, emerging with… water balloons!
---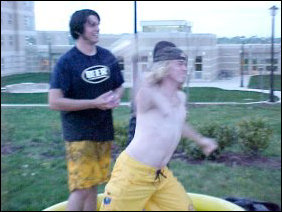 Meanwhile, Chris, Scott, and Kaveh began their own counter-assault, throwing balloons at Chris.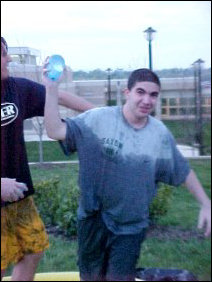 ---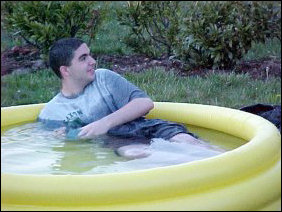 After the assault was over, Kaveh sat guard with balloon in hand.
---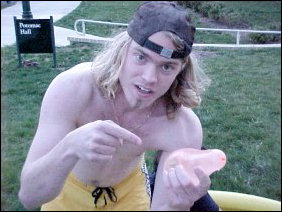 "See, Schumin, let me show you. This water balloon is going to hit Chris if he comes out again."
---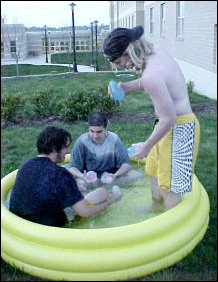 Messing with the water balloons… always fun.
---
Meanwhile, Kaveh and Chris see what it's like looking at the world through the water balloons.
---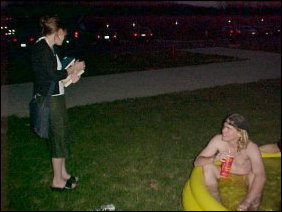 A passerby stops en route to a study session – Chris invites her in!
---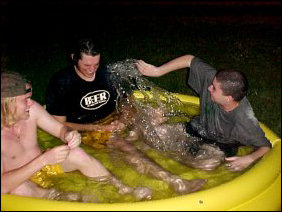 Here, Scott, have some water!
---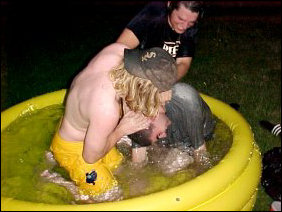 And as revenge for the splash, Kaveh gets dunked.
---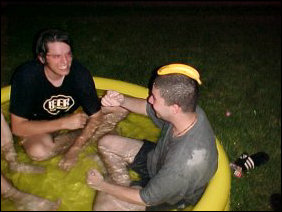 One of these three had a banana that they got from Festival and asked me to bring it over. They expected me to hand it to them. I tossed it into the water, which led to supreme silliness.
---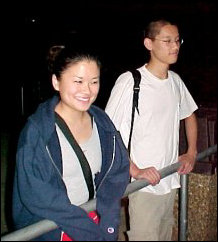 Meanwhile, Grace and Will watch from the sidelines…
---
According to Chris, you never know how a banana and a Festival cup can be used, as Chris uses the two as a telephone, and as a firearm.