Modeling for the Online Store
Here at The Schumin Web, I love my Online Store. With the April 21, 2002 redesign, I have proven once again that I am committed to excellence in the store. To that end, I found three new people to model items in the store – Eva, Lauren, and Amanda, three of Potomac's fifth-floor girls. We took a bunch of pictures – some of them will be showing up in the Online Store. We also had a lot of fun in the process, shooting various poses and combinations. We also had people come in and say hello, and you'll get to see that, too. So let's visit the study lounge, and see what we got…
---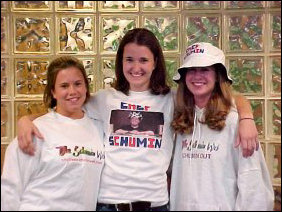 I believe we've created a perfect photo for The Schumin Web's Online Store right here…
---
After the group photo, we had some individual fun shots for various products. First, Amanda demonstrated a "Chef Schumin" hat, first in a straight-shot, and then a "cute" pose.
---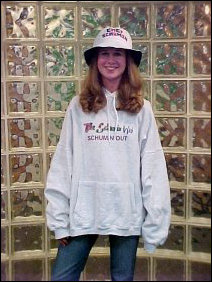 As this was my "Schumin Out" shirt, it was just a little large…
---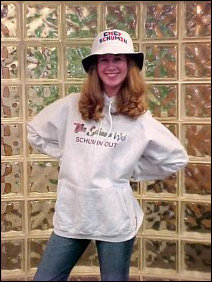 So we compensated for it just a little by holding the back together.
---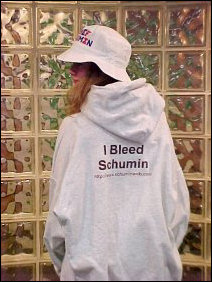 Lastly, the back. One thing learned from photographing a hoodie is that if you've got writing on the back, the hood has to be in just the right spot for a photograph. This took some adjusting, and Amanda waited for me to get it just right like a champ.
---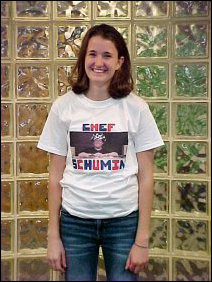 And now Eva. First of all, we demonstrate "Chef Schumin" off in a normal position.
---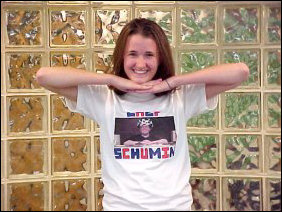 Afterwards, this position with arms up is in near-perfect imitation of how I'm holding my arms in the picture on the shirt.
---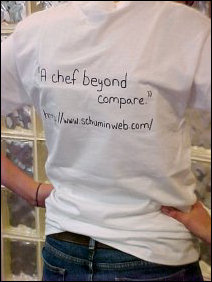 Yes, indeedy, do… I am a chef beyond compare, and don't you forget it…
---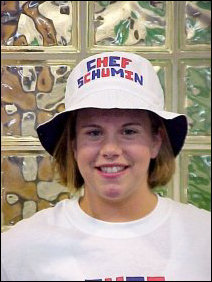 Next of all, we had a wardrobe swap, to create a full "Chef Schumin" outfit on Lauren.
---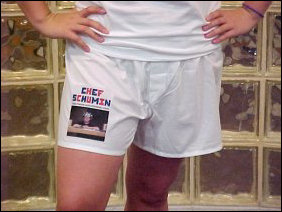 First of all, don't the boxer shorts just look awesome!
---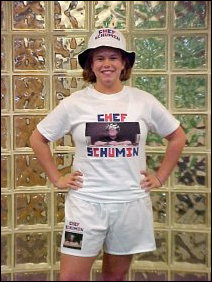 And there you have it! Completely decked out in Schumin Web apparel!
---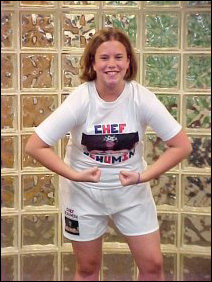 And let's not forget… here at The Schumin Web, we're rough, and we're tough!
---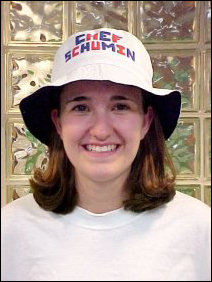 And now we switched again. Eva put on a "Traditional" shirt, and first did a hat-shot.
---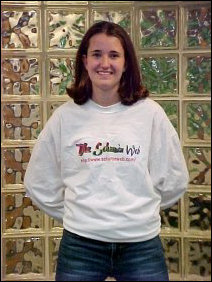 And now a pose for the store… we found, however, that this position was somewhat unnatural-looking, as I commented it looked like she had no arms.
---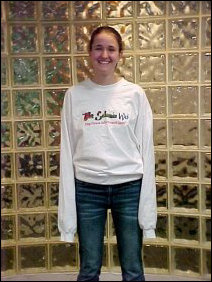 And this is why – the sleeves on this shirt were a bit too long, and thus the problem.
---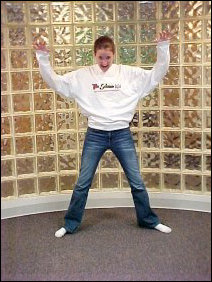 ATTACK!
---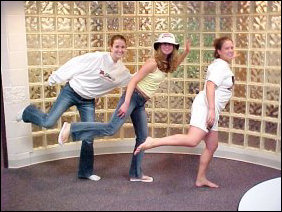 And now some fun poses for the group…
---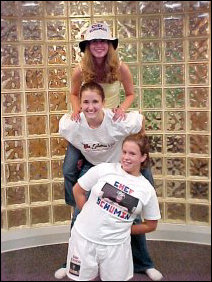 Here we made a little human totem-pole, with Lauren kneeling, Eva in the middle, and Amanda piggybacking on Eva.
---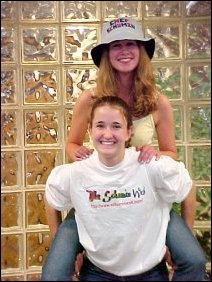 And now for a close-up of Amanda and Eva…
---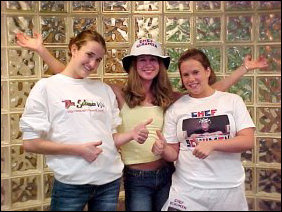 Ta-da!
---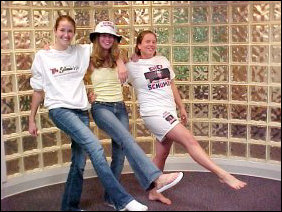 "It's up to you, New York, Ne-e-e-ew Yo-o-o-o-o-ork!
---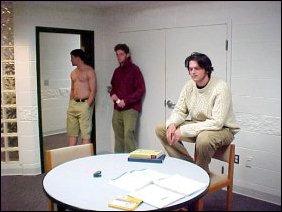 Meanwhile, Jeff, Harrison, and Scott take to watching our photo-shoot.
---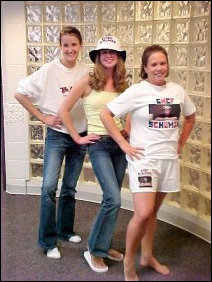 A quick threesome pose – Traditional and Chef Schumin. The Schumin Out shirt was getting a little too warm for comfort.
---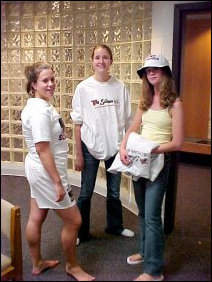 And now, after the formal shoot is over, it's time to clean up and clear out of the study lounge.
---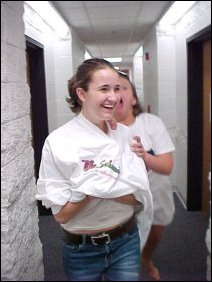 And on the way back to my room to look at the images, some fun goofing around.