D-Hall – Before the Renovations Begin
As most students at JMU know, Dining Services is run by Aramark. The flagship operation of JMU Dining Services is Gibbons Hall, commonly known as D-Hall. It's great – where else can you get fresh, hot Belgian waffles for all three meals? Nowhere else I know…
Still, Aramark has some big plans in mind for D-Hall. They plan to completely renovate the D-Hall portion of the building (there's also Market One and Chick-Fil-A in there), making it look more like a restaurant, but retaining that special D-Hall flair to it all. They also plan to eliminate most of the kitchen area, in order to provide more space for the new way they will be preparing food – right in front of you! From what I understand, it will still be D-Hall in its character, though, with its punch-and-you're-in procedure.
However, before these renovations began, I came in for dinner one Tuesday evening, and not only had dinner, but also took a few minutes (more like half an hour) to document D-Hall as it was before anything changed. Take a look…
---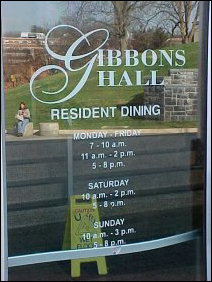 Welcome to D-Hall! Just swipe your JAC card, and then come on in!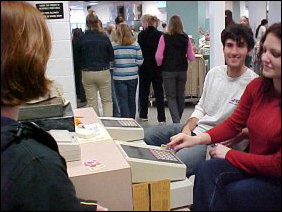 ---
The first dining room is #3 (rooms 1 and 2 were changed into Market One at some point). Dining Room #3 is your traditional-fare dining room. Take a look…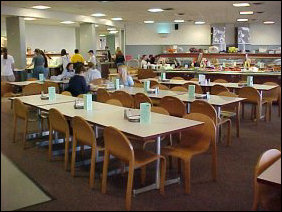 Dining Room #3 has large, comfortable wooden chairs at the tables, and a nice view out the window towards Zane Showker Hall.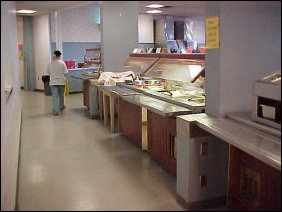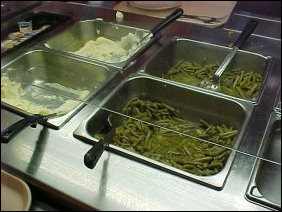 The buffet in this room serves traditional dinner-fare. On this particular day for the dinner meal, two of the vegetable items offered were mashed potatoes and green beans.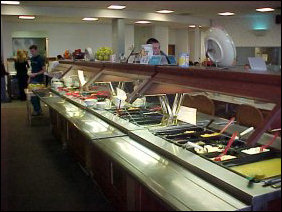 Dining Room #3 (along with #5) is home to a large salad bar.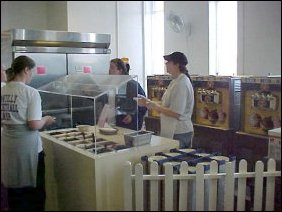 One feature unique to Dining Room #3 is a soft-serve ice cream station, where you can get ice cream in a cone or a dish, as well as whatever toppings you desire.
---
Dining Room #4 serves sandwiches, hot dogs, French fries, chili, onion rings, and that kind of fare. It's always nice to be able to have a simple meal – a sandwich and fries, for instance.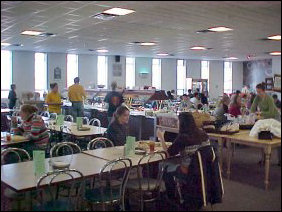 The chairs in Dining Room #4 are metal-backed with padded bottoms.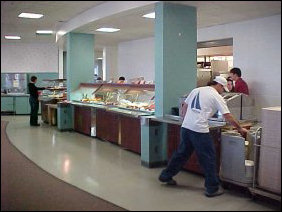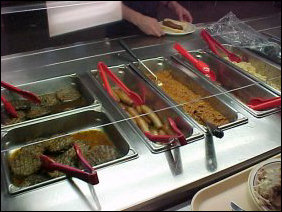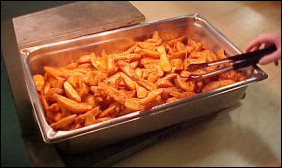 The buffet in this room serves hamburgers, hot dogs, chili, French fries, onion rings, nachos (including cheese), and the like. It's a good stop for lunch!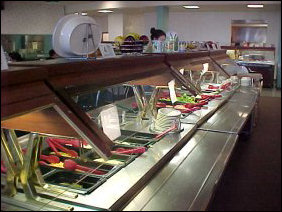 The other bar in this room is a sandwich bar. There's cold cuts, condiments, pickles, cheese, lettuce… everything required for a good sandwich.

You can also get cereal at all times in this dining room. That's important – cereal for dinner is good.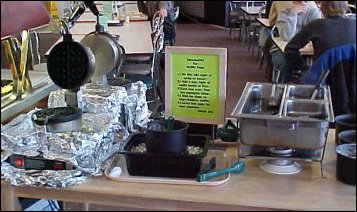 The place to make those famous D-Hall waffles is in this room as well.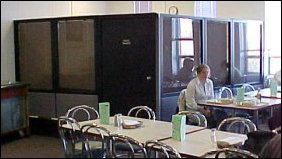 Dining Room #4 is also where the service managers have their office…
---
Dining Room #5 serves Italian food. Spaghetti, pasta dishes, and marinara sauce (plus bread) all come together here.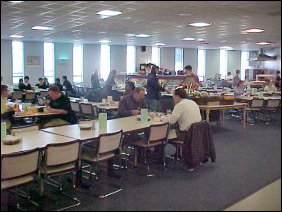 Dining Room #5 has padded chairs and a large salad bar.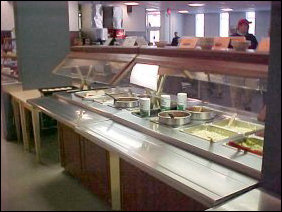 As described above, Italian food is the name of the game here.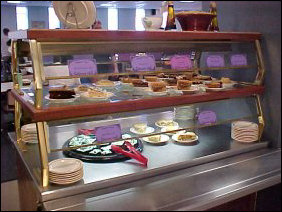 As with all three dining rooms, the last part of the buffet line is the dessert. Cakes, cookies, plus other fun stuff.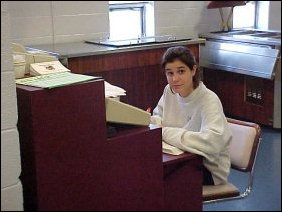 This dining room has an additional entrance – next to Chick-Fil-A. From what I understand, this entrance gets very little traffic, evidenced from the textbook that this person is studying.
---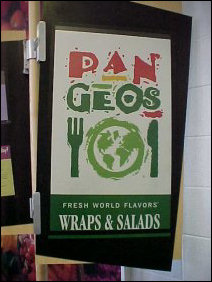 New for the 2000-2001 year is Pan Geos. It's a preview of things to come, with the food prepared right in front of you, and a very nice atmosphere indeed.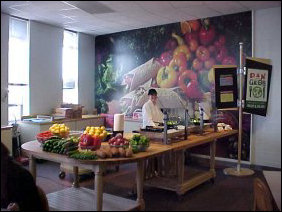 In Dining Room #3, wraps and salads are the specialty.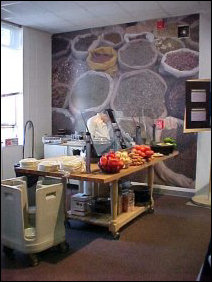 Dining Room #4 is home to the Granary, your all-vegetarian option.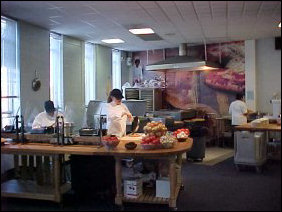 In Dining Room #5, you can get pizza and pasta. Of the three, I visit this one the most, for the fresh pizza.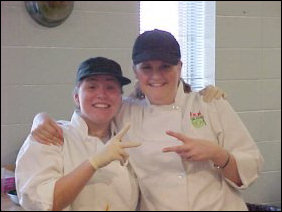 As you can see, at Pan Geos, it's a fun place!
---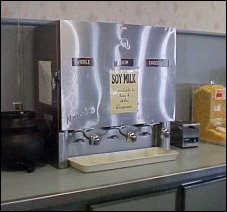 Beverage service at D-Hall is the same in all three rooms. Available to drink is milk in the gravity-run milk machine, two soft drink dispensers, dispensing various Coca-Cola products plus water and club soda. Not pictured but still important is the Minute Maid juice machine (Orange Guava Passionfruit is my favorite), plus coffee (regular and decaf), tea, and whipped hot chocolate.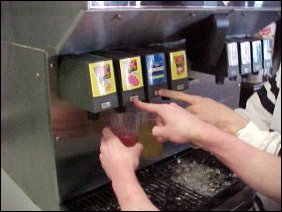 ---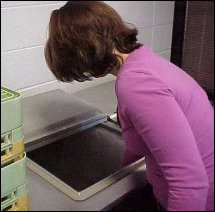 Another favorite item is ice cream. Everything an ice cream vendor might have is here in the freezer.
---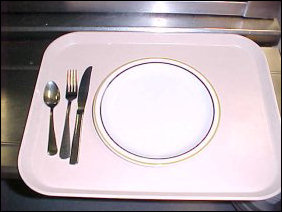 Now that most of the picture-taking is done, it's chow time!
---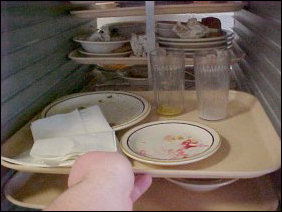 With my meal finished, it's time to put my tray away…
---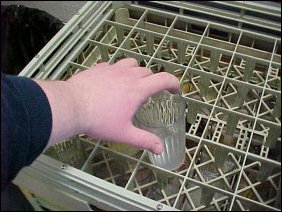 …and my cups. I had milk plus some Orange Guava Passionfruit. Gotta love that stuff…
---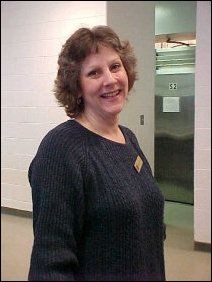 Before stepping out, I ran into (not literally) Sue, one of the managers, who was kind enough to stop for a photo.
---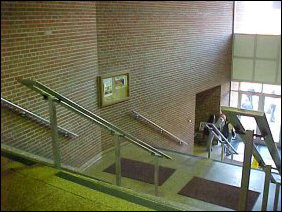 And after that, I make a graceful exit.