Halloween
Halloween was celebrated by fellow Potomac residents on the Friday before Halloween. I saw people wearing hockey masks, plus dressed as fairies, republicans, soldiers, rednecks, you name it. Me, I was a dud. I didn't go out. But I did get out the Mavica and take some pictures of some of my fellow fourth-floor people before they went out to Halloween parties. Let's take a look…
---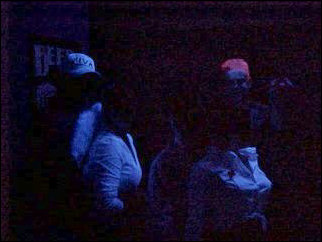 Everyone is all shining under the blacklight fitted in one person's light fixture.
---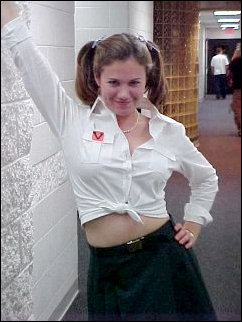 Where do we go to school? Obviously UVA, as Meredith dresses up as a "UVA Slut".
---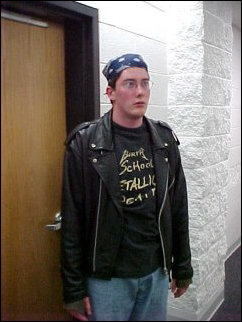 Ben from across the hall dresses up as a concertgoer.
---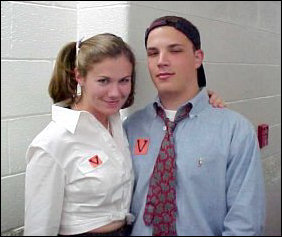 We have Meredith the "UVA slut", and then how about Andrew Dudik, the "UVA prep", to boot?
---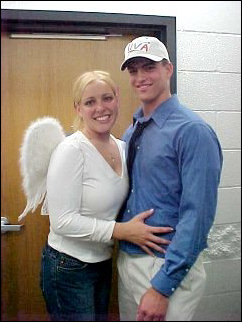 Along with Andrew, also a "UVA prep", Dana dresses up as an angel.
---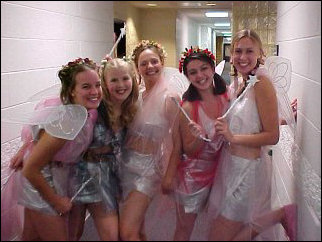 Fairies! These five were featured with the quote for Halloween.
---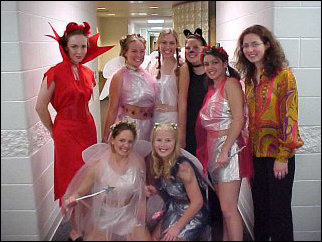 This group picture was taken not only with the Mavica, but also with about three other cameras as I was the only one NOT dressed up (and staying in) and so I was taking everyone else's pictures, too. Not that I mind, though.