Fire Drill
What better way to spend January 23, 2001, a Tuesday night, than shivering outside that nice, warm Potomac Hall? We had a pre-announced fire drill on this day, scheduled for 8:30 PM – sharp. After that fire alarm at ISAT, as covered by a Schumin Web photo essay, where I couldn't get a good strobe light picture, I had discovered a new "Multi" feature on the camera, which takes nine shots in rapid succession. So… this presented me an easy opportunity to test it out. Plus with everyone else out, too, it was a time for conversations to be had… at the Festival, since the building was still open, and it was below freezing outside.
---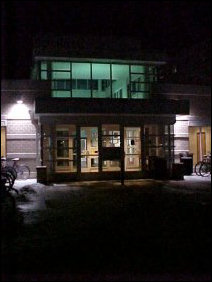 Before the fire drill, all is quiet.
---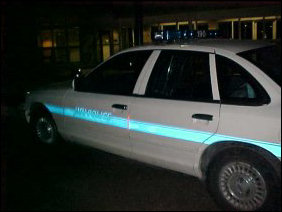 For any planned alarm, JMU Police must be there to supervise, and then to silence and reset the alarm.
---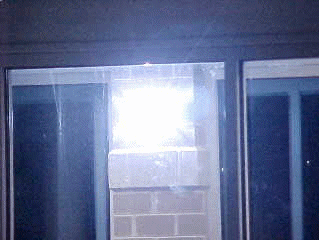 Then Mecca pulled the fire alarm, and let the festivities begin! As you can tell, I was quite successful with my attempts at getting a picture of a strobe flashing this time, and made this animation of the flashes. Accompany this with a continuous series of sets of three shrieks, and that's the Potomac fire alarm.
---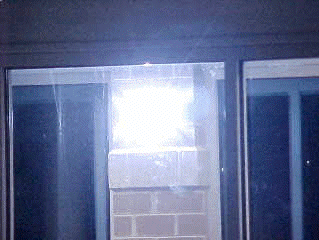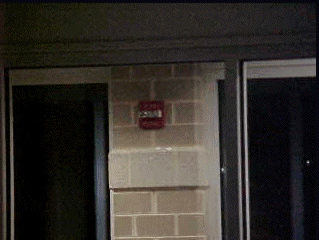 To get these wonderful strobes, I used the newly-discovered "multi" function on the Mavica, which takes nine shots in rapid succession, and arranges them in a grid pattern. I then took these two shots, identical except for the strobe light, and made the animation.
---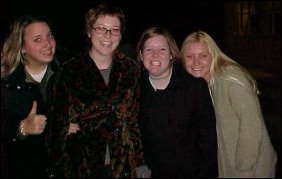 Some of our friends from the November 2000 Web Cam archive stop on their way to the Festival for a photo.
---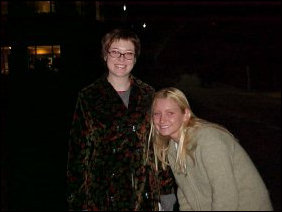 As the previous photo came out off-center, I tried to rectify it with another picture, but since I had a few difficulties with the flash, a few got too cold and went on over before I could get another picture.
---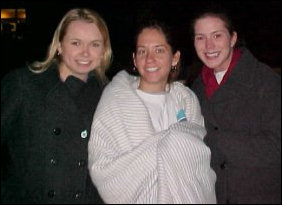 Fire drills bring everyone together, don't they? And then from outside, off to the Festival they go!
---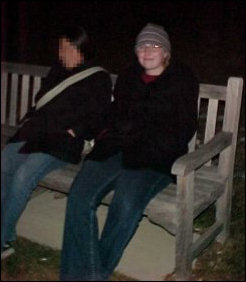 These two spend the time bundled up waiting on the bench for the "all clear".
---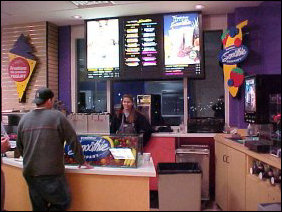 I'm usually a hard-core alarm hanger-arounder, but I'm sorry, it was COLD. So I went to the convenience store at the Festival, and found Jim ordering a Freshens Smoothie.
---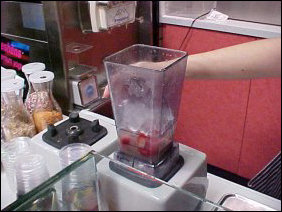 After he completed his order, I decided to order a smoothie myself. Funny how it works… one goes inside to get out of the cold, just to get a drink that's as cold as it is outside. Well, I guess if you're cold on the outside, you might as well have some equilibrium and get cold on the inside, too. Thus the ice with the strawberries.
---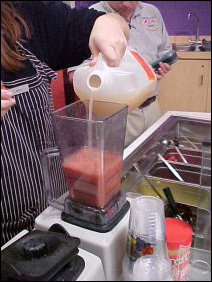 Seems my smoothie is just a tad too thick… better add some more smoothie mix.
---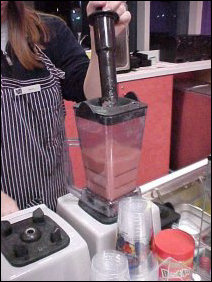 And of course to persuade the smoothie to get properly mixed, Beth is properly equipped with a pushing-around device that is guaranteed not to get her fingers chopped off.
---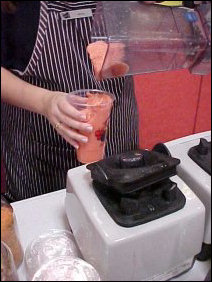 I can taste it now!
---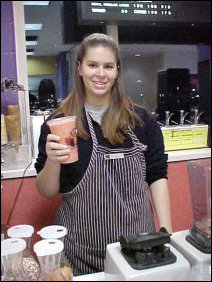 "Here you are!"
---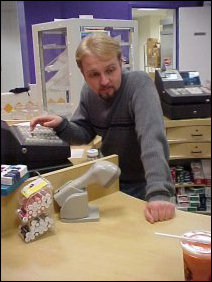 And finally, before enjoying that fresh smoothie flavor, I take it over to Jason, so it can be properly rung up and paid for. Method of payment? Flex, of course!
---
By this time, the all-clear had been given, and everyone returned to a nice, warm Potomac Hall.