Junior Year
For my junior year at JMU, I returned to Potomac Hall, this time as a Resident Advisor (RA). Between classes, homework, duty, and other commitments, I still have my moments. The bus takes me to class, and Festival's just around the corner.
---
Now, let's cue those photos of various junior year happenings, courtesy of my old friend the Mavica…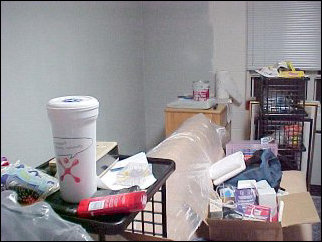 Painting… always a messy process…
---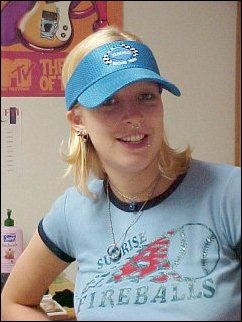 Blu, Greg, and myself all went to Wal-Mart one evening… here is Blu showing off the fruits of her shopping with this rather "uplifting" hat… Viagra racing team.
---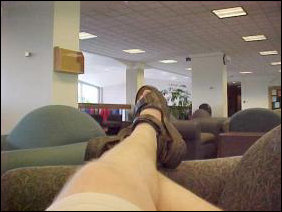 Now this is the life… laying across one of the airport lounge couches, collecting my thoughts…
---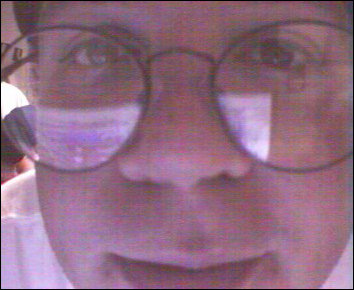 I look directly into a Web Cam on the fifth floor on the freshman side… some have commented that I kind of look like Harry Potter in this shot.
---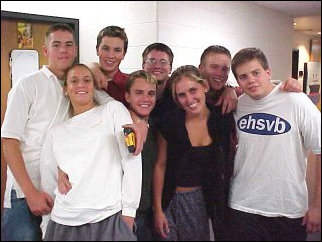 Some of my residents and their friends pose in the hallway on a Friday night.
---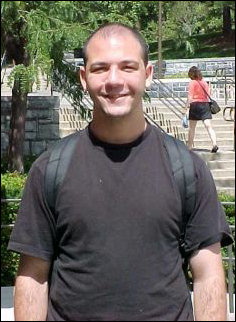 I run into a friend (and fellow Ben) outside D-Hall one Sunday when I've got the Mavica with me.
---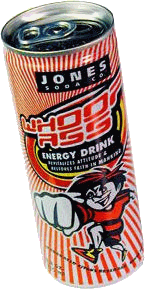 A genuine can of Whoop-Ass… the fun of it is all in opening it, and the threat of, "Don't make me open this can on you!"
---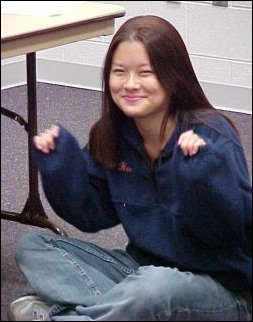 Grace is doing something for the Mavica… not exactly sure what, but she is.
---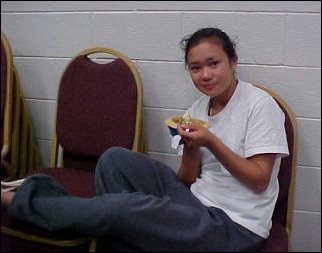 GOTCHA! We caught Hana chowing down in the pavilion room one night…
---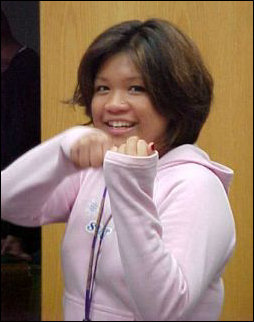 Don't mess with Joanne, or she'll kick your, uh… posterior region.
(Actually, she was about to give the camera the one-finger salute, but I photographed before she extended that digit)
---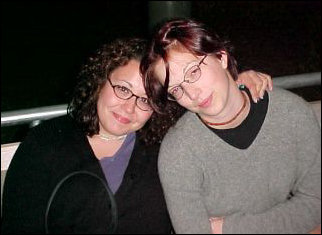 Kelley (left) and Beth… roommates and buddies. And, on a different occasion, quite the jokers (below).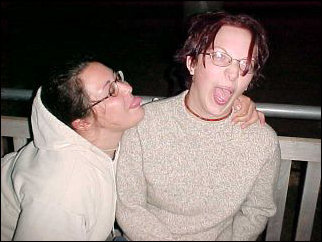 ---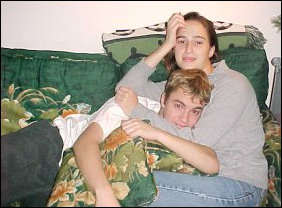 Hanging out in Patrick's room…
---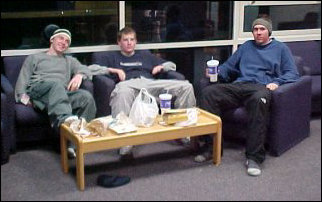 Some of my residents take a moment to enjoy Taco Bell in the TV lounge…
---
Will and Clare from Campus Crusade for Christ have done an awesome job through the year with a community service project, taking out people's trash throughout the building. We are highly appreciative of their efforts.
---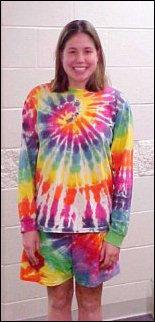 Callie has a VERY vibrant outfit on today, don't you think?
---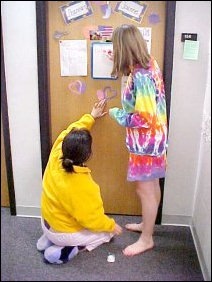 Joanne and Callie take a moment to decorate Joanne's door.
---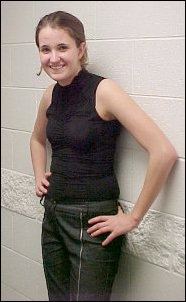 And here's Eva, very happy and cheerful despite that it's two in the morning…
---
Well, look who came by on a Friday evening and immediately took over the computer… it's my sister!
---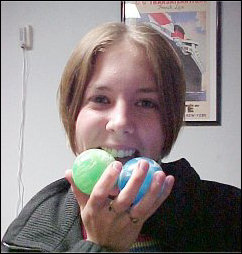 "SCHUMIN, I AM NOT LICKING YOUR BALLS!"
(Don't ask – it's a long story)
---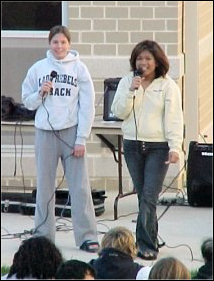 At the Potomac Hall Talent Jam, Callie and Joanne sing up a storm!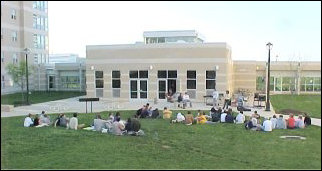 ---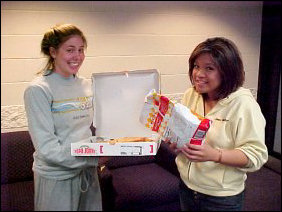 And later, Callie and Joanne enjoy pizza and potato chips.
---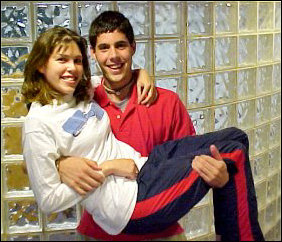 Meghan, who lived in McGraw-Long with me freshman year, and her friend Pete stop by to say hello for a moment…
---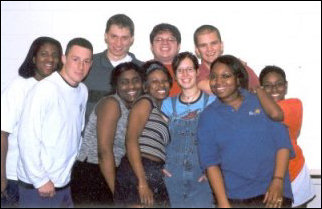 What an awesome hall staff we were! From left to right, we have Mecca, Gee, Greg, Ketia, Dorian, myself, Blu, Ray, Renita, and Chandra.
---
And what about those little events in life that the Mavica was not present to witness? What about things like…
Kinko's laminates posters? NEATO!
Potomacopter?
"Don't make me open this can on you!"
Ice cream at 5 AM with a fork?
The freshman elevator giving everyone the shakedown?
"Potpourri"?
"Spit" and "Crazy Eights" with Greg in the office?
The three vacuum cleaners "Dirty Harry", "Billy the Kid", and "Mustang Sally", and our efforts to get all three of them named?
TV cards?
Bend back and fall back?
Chocolate covered onions, medium rare?
"La-la-la-la-la-laaa, la-la-la-la-laa-laaaaa… la-la-la-la-la-la-la-la-la-laa, THE SMURFS!"
"Make sure you write 'Billy the Kid' on the check-out form…"
"You all are mature enough to schedule those kinds of activities around the visitation hours schedule…"
Chef Schumin?
The day Billy the Kid (vacuum cleaner) started smoking?
Scaling a dumpster for Dorian?
"That chair is out to get me!"
"Ben, I know this is you."
"I was in hog heaven!"
"How do I know you live here?"
1000 words… what are they?
Taboo?
"That stuff is GREEN!"
Turning the tables on Gee?
"Kristine Imboch"?
Morgue hours?
Schumin the spy…
"We're going to break your knees…"
"I want to see pictures!"
Raleigh "smoking" his giant cigarette?
"Get the b—- out!"
"Today is unnecessary risk day!"
"You realize I'm the guy who's holding the shards of broken glass, don't you?"
Getting pelted with snowballs outside Potomac?
Randi attacking back at the snow-assault on our dignity?
Ludacris?
"Are we allowed to have sex in our rooms?"
"Doing a little bed-bouncing, are we?"
"Word."
"You can see the hate in their eyes…"
"I REMEMBER THAT SHOW!"
"What did I tell you all about playing with your balls in the hallway?"
It seems that the second floor is the place to be next year…
The water balloon fight?
"Please keep volume at your weekday nighttime level like you would while David Letterman is on (and yes, Letterman is funnier than Leno, before you ask)."
Will and Joanne's kite hitting Festival?
"Give a snap, a clap, and a chuckle… then you won't feel afraid!"
"They are wrestling out there on the grass!"
"Schumin and I have the same class!"
"Let this be a lesson… never try to photograph freshman boys in a group setting…"
"What happened to your recycling bin?"