The Ball Wackers
– Game #3 vs. 877 Kids –
We took on the 877 Kids in our third game, which was played strictly for fun. Reason was that the 877 Kids didn't have enough women on their team (five of each gender was the minimum numbers – they had only three women), and so they had to forfeit. So we won by default, and this game was played just for the heck of it. It was interesting, too. I even saw a little action in this game, as a foul ball sailed over me and landed just behind me. I, being the nice guy that I am, threw it back to Becky.
---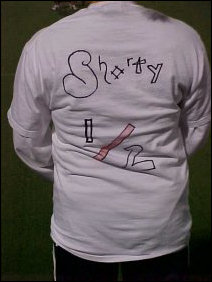 Following the "Hoss" theme from last week, other players decorated their shirts. "Shorty", with number ½, was a new decoration this week.
---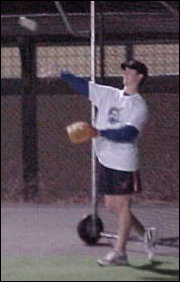 Ste-e-e-e-erike one!
---
The team watches intently as Johnny steps up to the plate…
---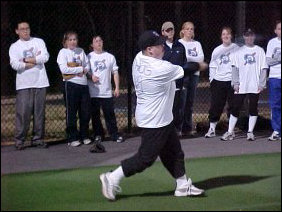 And in typical Johnny style (with "THUG" written on the back), he nails the ball.
---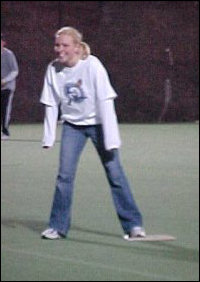 Dana holds down second base! Steal! Steal! Steal!
---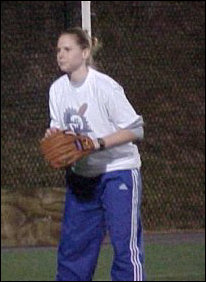 Teresa occupied a strategic post – third base – in this game.
---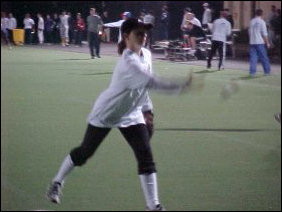 Becky gives the 877 Kids another pitch towards the end of the game…
---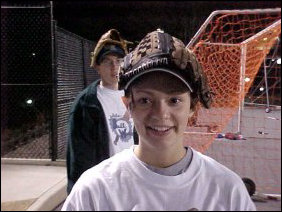 Afterwards, don't ask me why, but everyone wearing their baseball gloves on their heads seemed to be the thing to do.