D-Hall - The Fresh Food Company
– Part 3 –

Ah, dessert, now in one central location, called Sweets. Formerly dessert was at the end of each of the three lines.
---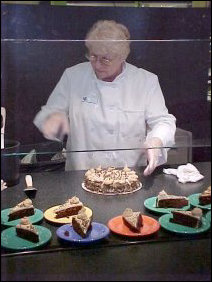 At Sweets, you have everything, cookies, cakes…
---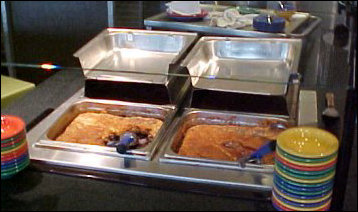 …cobblers…
---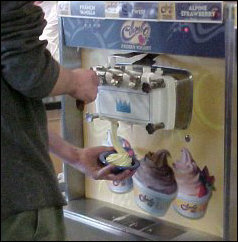 …and ice cream. An advantage to the new dessert station is that now you serve your own ice cream. They have two of these machines, and they try to mix up the flavors, currently having this machine dispense vanilla and strawberry, as well as being able to swirl the flavors together.
---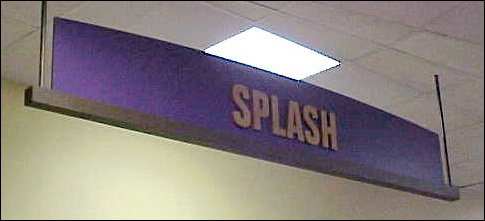 And what will we wash all this food down with? Splash!
---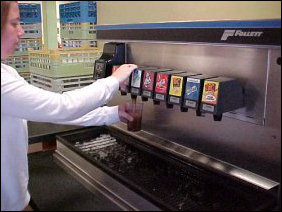 The new soft drink fountain is much less imposing than the old one. Another thing that I appreciate about the new machine is that the iced tea actually comes out cold. Usually I have problems with iced tea not coming out cold, and then quickly melting my ice because of it, making for a watered-down drink. This iced tea comes out cold, and is pre-sweetened. This is the life.
---
The old juice machine is gone, replaced with this new one, with more selection. Depending on which of the three drink stations you go to, there's different selections, but there's various flavors like apple, orange, grape, "blue cooler", "apple berry", and more.
---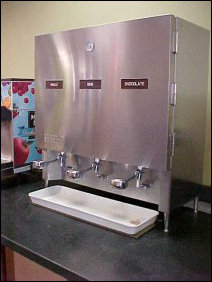 And of course who can forget the moo juice? Whole, skim, and chocolate, take your pick, or mix-and-match. These machines are updated from the previous design, with the push-up things now being a little heavier, and shaped differently. They're also hinged.
---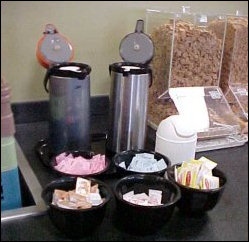 And of course, who can forget fresh coffee and the various things to go with it.
---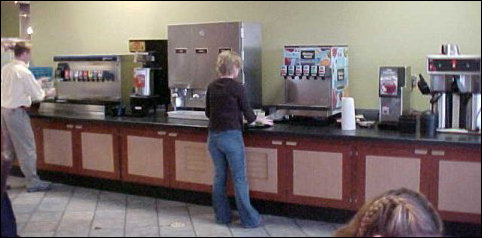 And that's Splash! There are three of these stations in D-Hall, all called Splash.
---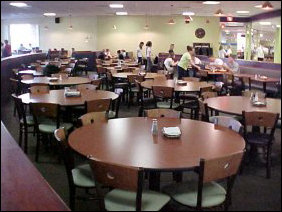 The experience is different as well now. Before, D-Hall had a combination of long and short tables. Now most tables are separate, and the furniture is brand new. In what used to be dining room #5, in the center of the room are a number of round tables, that seat six. Beyond this are a number of four-seat tables.
---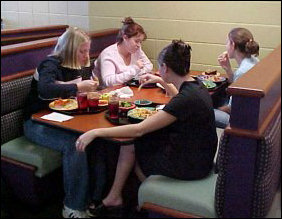 And also in this part of D-Hall, along the side… booths!
---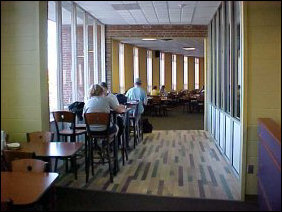 This area right here is an actual physical expansion of D-Hall, over the entrance lobby. Three new tables that each seat four are here, and it also serves as a new walkway.
---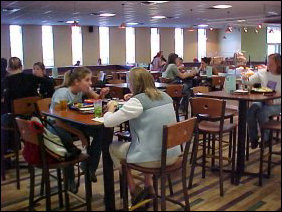 In the former dining room #4, in the middle of the room are raised tables, and further back, half-booths, four-seat tables, and eight-seat tables.
---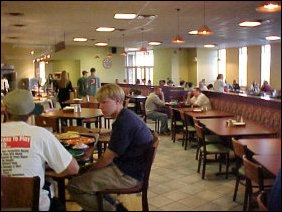 The former dining room #3 holds similar furnishings. Here you can get a good look at the half-booths. They also have full booths along the wall behind me (from this vantage point).
---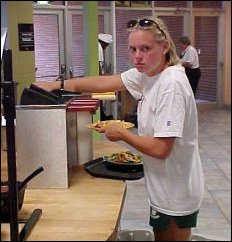 Now it was time for me to eat something myself. Here I wait for this person to finish using the new condiment dispensers – much cleaner than before where we scooped the stuff out. No more making messes, now that we have a precision shot.
---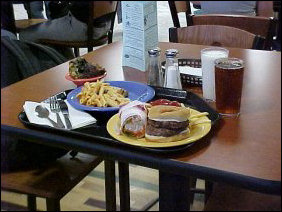 And here we are! It's chow time! Note the new heavy-duty, multicolored plates and dishes. SO good, and they don't break – just make a lot of noise when they hit the ground.
---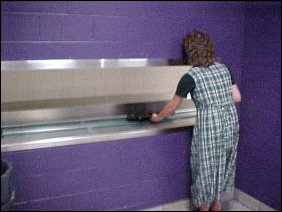 And when you're finished eating, just head over here, at the far end of Southern Bistro, to the tray return area. Place it on the conveyor belt, and it travels straight back to the dishroom.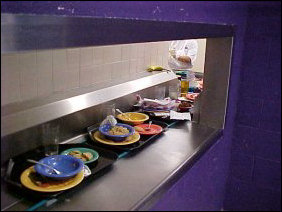 ---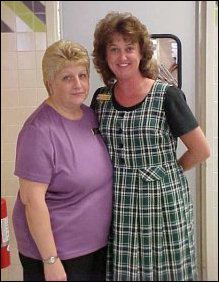 On this particular evening, Merrie Ann and Sandy were the managers on duty, keeping this place in order.
---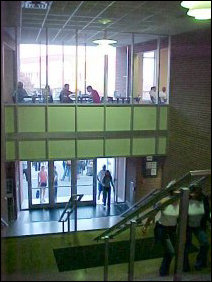 And now, having taken more pictures than I expected at D-Hall, and having had dinner, I gracefully depart. Note the new walkway above the entrance, where previously there was nothing.